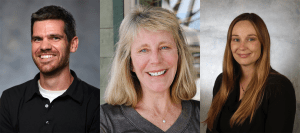 Three faculty members recently completed the Quality Matters certification for online courses.
Dr. Patrick McGuire, associate professor, Department of Teaching and Learning, College of Education, received certification for his course CURR 5171: K-12 Web-Based Educational Resources, which examines current literature involving Internet use in K-12 curriculum and evaluates various educational resources for use in educational settings.
Dr. Mary Ann Cutter, professor, Philosophy Department, College of Letters, Arts and Sciences, received certification for her course PHIL 3130: Biomedical Ethics, which explores such topics as informed consent and experimentation with human subjects, technological manipulation of birth and death processes, allocation of medical resources, genetic screening in the workplace, and genetic engineering.
Dr. Andrea Bingham, assistant professor, Department of Leadership, Research and Foundations, College of Education, received certification for her course LEAD 5700: Introduction to Research and Statistics, which covers basic concepts in statistical interference, evaluating and using research, design and analysis of educational research, and critical evaluation of published research.
Quality Matters is a nationally recognized faculty-centered peer review process designed to highlight the quality of online courses and components. The Quality Matters rubric is the most widely used set of standards for the design of online and blended courses at the college level. At UCCS, Quality Matters certification is coordinated by the Faculty Resource Center. There are now 28 UCCS courses with the Quality Matters certification.