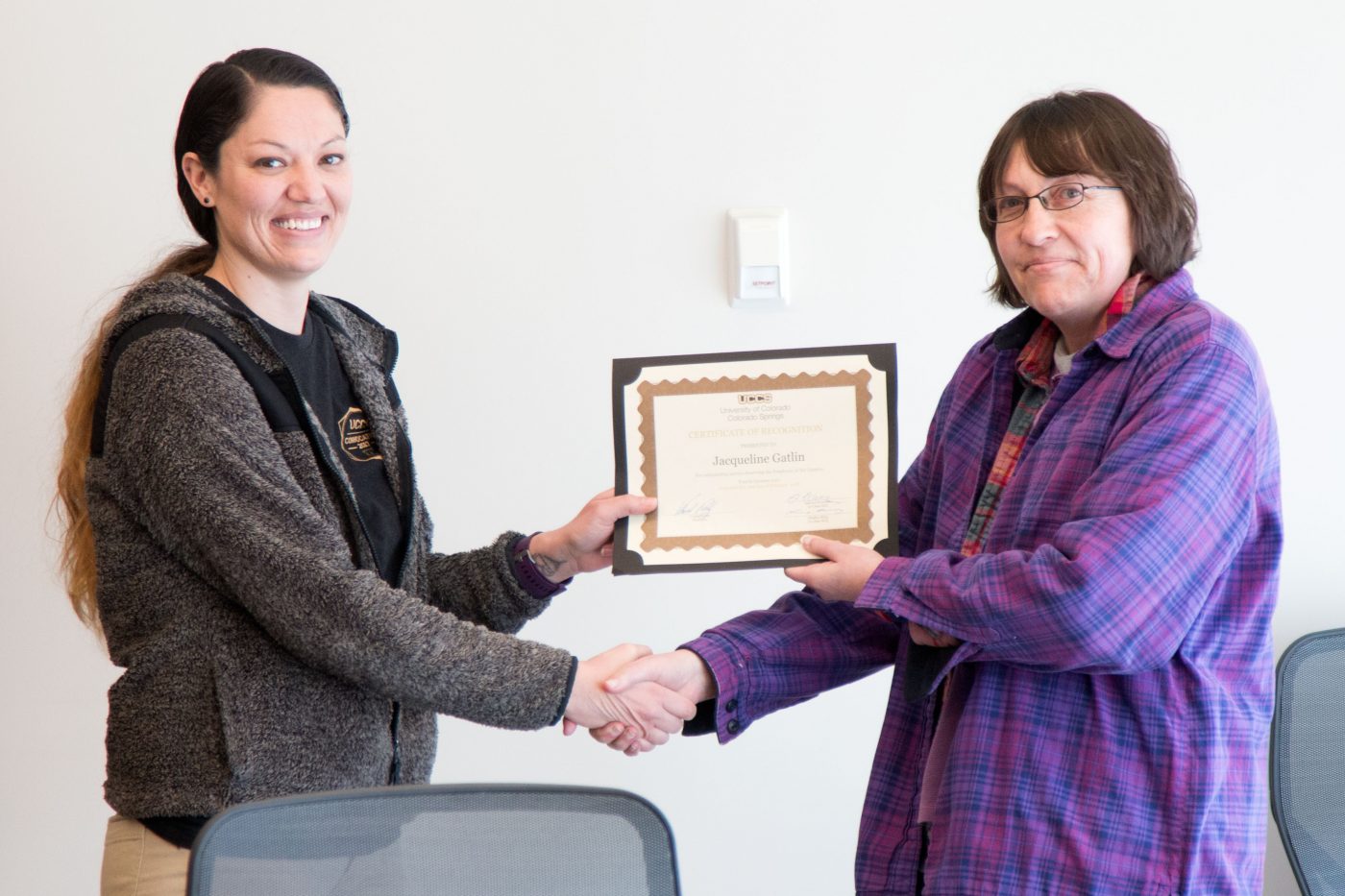 When a year-long program review was scheduled for the Office of Student Financial Services, Jacqui Gatlin, associate director, embraced the challenge of being one of the first in the administration and finance division to complete the process.
Using experience from her recently-completed coursework for the student affairs in higher education master's program at UCCS, Gatlin led her staff to a new four-year strategic plan that will improve efficiency and provide greater service and communication for students and families.
"I can sit with spreadsheets forever and enjoy it," Gatlin said with a laugh. "It was coming off the tail-end of my graduate program and we did a lot of assessment and data. It was fresh in my mind and it was something I liked to do."
Now she is currently the interim chair of the administration and finance assessment committee. Her willingness to jump into the project was the spark that led Megan Bell, executive director, Community Learning and Assessment, to nominate Gatlin as the UCCS Employee of the Quarter for October through December, 2017.
"Jacqui is wise beyond her years and is one of those quiet leaders that do not ever ask for recognition, but are making an impact on our campus each day," Bell wrote. "She is dedicated, positive and is always willing to help other colleagues."
Gatlin started as a student employee in the office when she transferred from Colorado State University, Fort Collins, in 2005. Three months after graduating in 2007, Steve Medlin, director, Student Financial Services, encouraged her to apply for a position in tuition assistance. She moved into various accounting roles between 2008 and 2014, became assistant director in 2014 and associate director in 2015.
"It's a great community to be in," Gatlin said. "There are lots of supportive people who will go out of their way to help you when they can. As long as you engage in the community and become a part of it, it's a great community to be in."
Gatlin's entire professional career has been on the administrative side of higher education, and because she's often dealing with individual students and parents on financial matters, it can be isolating to the general needs of students. She enrolled in the SAHE program through the College of Education to gain that insight and maintain the perspective of what students need during college.
"Working in this office for so long, it's easy to get disconnected from the mission and why you're here," Gatlin said while she mentioned the calls from students and parents about bills. "I did the budget and finance side for years and I wanted to see the other side of higher education. Doing SAHE helped me tie together the possible disconnects and keep people engaged on the main focus of what we're doing and why we're doing it."
Gatlin worked on a new refund policy for tuition and fees that was implemented this semester to be less confusing for students and parents. She also created a one-sheet handout for new students at orientation to provide better education on financial responsibility and costs of attending UCCS.
In recognition of her efforts, Gatlin will receive a $100 stipend, three months of a free and reserved parking, a $40 voucher to the UCCS Bookstore and one day of administrative leave.
Nominations for the first quarter of 2018 can be made at http://www.uccs.edu/staff/employee-awards/employee-of-the-quarter.html.