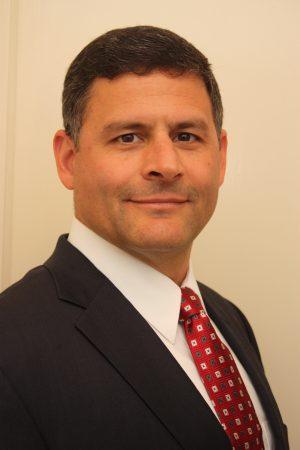 An associate vice provost at one of the nation's most prestigious universities will become vice chancellor for administration and finance at UCCS, university officials announced Jan. 11.
Charles "Chuck" Litchfield, currently associate vice provost for finance and administration of undergraduate education, Stanford University, Stanford, California, was selected following a national search. UCCS Chancellor Venkat Reddy announced the appointment. Litchfield will begin at UCCS March 1.
"I am excited that a leader of Chuck Litchfield's caliber will assume the vital position of vice chancellor for administration and finance," Reddy said. "In Mr. Litchfield, we found someone who is data driven yet has a personal and collaborative approach to financial leadership.  His record of accomplishments and interactions with the campus community during his visit clearly demonstrate that he possesses the skills necessary to lead the Administration and Finance Division in supporting the mission of our university. "
Since 2013, Litchfield served at Stanford where he worked with a $60 million budget for undergraduate education, implemented a performance management system, and led efforts to create a new unit focused on building residential and community-building academic programs.
Prior to joining Stanford, he completed a 25-year career as a United States Navy officer including serving as operations manager for U. S. Northern Command in Colorado Springs and as a financial analyst and budget programmer for the Chief of Naval Operations Staff at the Pentagon.
"I was impressed by the UCCS community's sense of pride and mission throughout the search process. It's positively infectious. I'm humbled to serve the university in this role. I look forward to supporting the scholarly excellence of our faculty and the top-notch academic success of our students," Litchfield said.
He earned a bachelor's degree from the United States Naval Academy, a master's in aeronautical engineering from the Naval Postgraduate School and an MBA from UCCS. At Stanford, he served as a pre-major adviser to military veteran undergraduates and chaired a manager's group.
Litchfield replaces Susan Szpyrka who retired Dec. 31, 2017.
In addition to serving as the chief financial officer and having responsibility for budget and accounting functions, the vice chancellor for administration and finance is responsible for facilities, public safety, human resources, student admissions, recruitment, registrar, orientation, degree audit, first year experience, parent programs, retention, university studies, pre-collegiate development, financial aid, student employment and scholarships.
Reddy thanked the search committee for its outstanding efforts. The members of the committee were:
Tom Christensen, provost (chair); Bob Durham, associate professor, Psychology Department; Craig Elder, associate professor, Helen and Arthur E. Johnson Beth-El College of Nursing and Health Sciences; Kelly Fox, senior vice chancellor and chief financial officer, Office of the Chancellor, CU Boulder; Carlos Garcia, associate vice chancellor, Student Success; Melinda Hagemann, executive director, Development Office; Harper Johnson, assistant vice chancellor, Information Technology Department; Eric Olson, interim dean, College of Business; Marc Pino, police chief, Public Safety Department; Jeff Reed, executive director, Physical Plant Office; Jevita Rogers, senior executive director, Financial Aid and Student Employment Office; Suzanne Scott, budget director, Budget and Planning Office; Angel Tran, UCCS junior and student government representative; Anja Wynne, executive director, Human Resources Office. The committee received support from Andrea Cordova, chief of staff, Chancellor's Office.