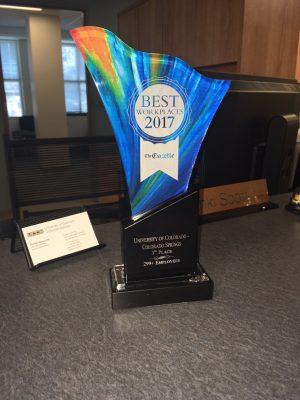 UCCS is one of the best places to work in El Paso County, according to the Colorado Springs Gazette.
In a special celebration Nov. 29 at the Antlers Hotel, UCCS received third-place honors among local organizations that employ 299 or more employees. Pikes Peak Library District earned top honors in the category followed by School District 11 and UCCS.
"It was an honor to accept this award on behalf of everyone who makes UCCS great," Anja Wynne, executive director, Human Resources Office, said. "Next year, I hope we can move up in the Gazette's rankings."
Also attending the ceremonies were: Susan Watson, associate director, Human Resources; Barbara Prinari, professor, Mathematics Department; Brett Fugate, director, Academic Advising Office; Stephen Cucchiara, assistant director, Office of Student Activities; Catherine DeGroot, custodial manager, Facilities Services Department; Chancellor Venkat Reddy and Martin Wood, senior vice chancellor, University Advancement.
To complete the rankings, the Gazette joined with the Colorado Springs Chamber of Commerce and Economic Development Corporation and a Boulder-based data collection company. The Gazette received nominations for best workplaces and asked those organizations to distribute employee surveys in September. Employees answered 26 questions about organizational health, engagement and leadership, work-life balance, training, pay, benefits and corporate responsibility.
A special section highlighting the Best Workplaces 2017 winners is scheduled for Dec. 3 editions of the Gazette.