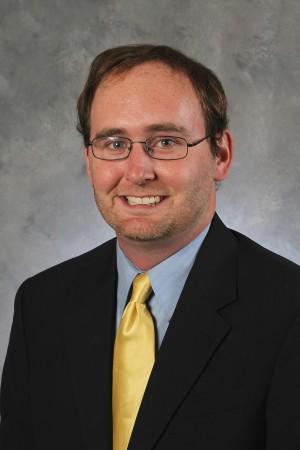 A UCCS staff member recognized for his work promoting campus athletics will join the staff of University Communications and Media Relations Nov. 15.
Jared Verner, associate athletic director for external relations, Athletic Department, was selected following a university search. Verner will support campus-wide internal communications and media relations efforts.
Tom Hutton, executive director, University Communications and Media Relations, announced Verner's appointment.
"Jared brings to University Communications outstanding skills," Hutton said. "His ability to convey complex information quickly and concisely will help bring additional attention to the hard work and high quality of UCCS faculty, staff and students."
Since September 2016, Verner served as associate athletic director. He joined UCCS in 2012 as assistant athletic director for sports information. Previously, he served as sports information director at Western State College, Gunnison. In June 2016, Verner received Rocky Mountain Athletic Conference J.W. Campbell/Con Marshall Sports Information Director of the Year Award.
He earned a bachelor's degree in journalism from Northwest Missouri State University, Maryville, Mo.
"I'm thrilled to work at the campus level to share the great stories at UCCS," Verner said. "I've had the pleasure of working with University Communications and Media Relations in the last five years, and I'm excited to join the team."
Verner replaces Joanna Bean who was named director of alumni relations and annual fund Sept. 6.
Hutton thanked the members of the search committee for its efforts.
Search committee members were:
Laura Austin Eurich, senior instructor, Communication Department, chair
Joanna Bean, director, Alumni Relations and Annual Fund
Tom Dewar, senior development director, Development Office
Jeff Foster, associate director, University Communications and Media Relations
Greg Krems, financial and operation assistant, Information Technology and University Advancement, provided staff support.