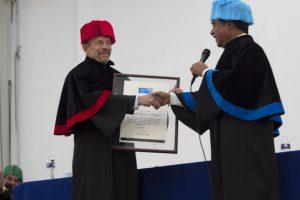 Don Klingner, distinguished professor, School of Public Affairs, was awarded an honorary doctorate degree by the Institute Academy for Politico-Administrative Sciences and Future Studies, Oct. 20 in Toluca, Mexico.
Klingner presented "Trump Against the World: His Policies Toward Mexico, and the Resistance from Inside and Outside the United States." At the conference, he was presented the honorary degree in recognition of more than 20 years of collaborative work with faculty members at numerous Mexican universities, many of them conference co-sponsors, including the Universidad de Tlaxcala, the Universidad Anahuac, and the public administration institutes of the State of Mexico and the State of Quintana Roo.
"I am proud to be awarded an honorary doctorate degree and express my gratitude to Dr. Roberto Moreno Espinosa and all my Mexican colleagues for their support and collegiality," Klingner said.