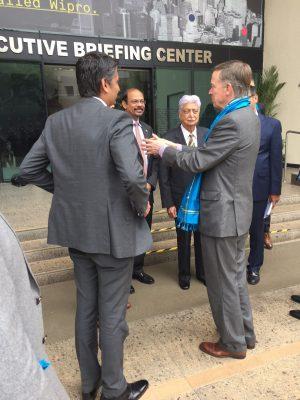 Chancellor Venkat Reddy participated in a seven-day trade mission trip to India led by Governor John Hickenlooper.
Chancellor Reddy was part of a delegation of 12 business and academic leaders as well as state officials who conducted diplomatic meetings with elected officials and industry leaders in India. The Colorado Office of Economic Development and International Trade organized the trip.
The trip's purpose was to open and expand markets for Colorado companies, find opportunities for foreign direct investment and to build relationships with Indian companies. Reddy and JB Holston, dean, Daniel Felix Ritchie School of Engineering and Computer Science, University of Denver, represented higher education in Colorado and the state's workforce availability to support economic growth.
"It was exciting to engage in conversations with government and industry leaders in India about digital transformation, cybersecurity, building smart cities, public-private partnerships, expanding STEM education, workforce collaborations, and internships and co-op opportunities for our students. I expect some good outcomes to come out of this visit for both academia and industry because of this mission," Reddy said. "We had the opportunity to share the strengths of the universities in the State of Colorado during this visit."
The group visited Delhi, Hyderabad and Bengaluru and met with leaders of major companies such as Cognizant, Cisco, Wipro, Infosys and Cyient Ltd. The group also participated in a reception at the U.S. Embassy in Delhi and met with various Indian government officials.
"Colorado has many friends in India, and many partners as well. Here is an English-speaking democracy with a population beyond 1.2 billion souls, and an exploding middle class​," said Hickenlooper.​"This has been a trip of 14-hour days, but we have opened many doors. Colorado businesses will have many opportunities that can flow from these initial meetings."​
In addition to Hickenlooper, Reddy and Holston, the delegation included: Suma Nallapati from the Governor's Office of Information and Technology, Stephanie Copeland from the Colorado Office of Economic Development and International Trade, Sanjay Shah from Deloitte, Ben Wright from Velocity Global, Alex Kreilein from Darkfield, Cody Cornell from Swimlane, Milan Dalal from Brownstein Hyatt Farber Schreck, Sam Bailey from the Metro Denver Economic Development Council and Michelle Hadwiger and Laura Blomquist from the Colorado Office of Economic Development and Trade.