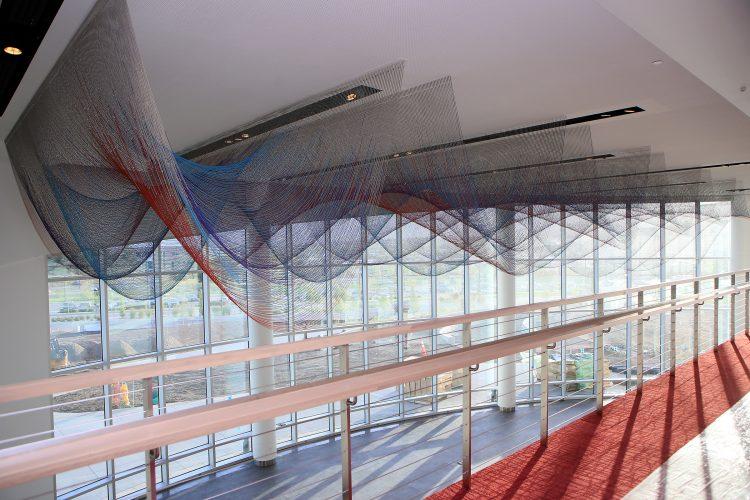 Art installation is underway at the UCCS Ent Center for the Arts in preparation for the January 2018 opening.
One percent of the center's capital construction funds were allocated toward the commission of new artwork as part of the Art in Public Places Program which is administered by Colorado Creative Industries. AIPP was established by Colorado Legislature in 1977 with more than 40 public art programs throughout Colorado.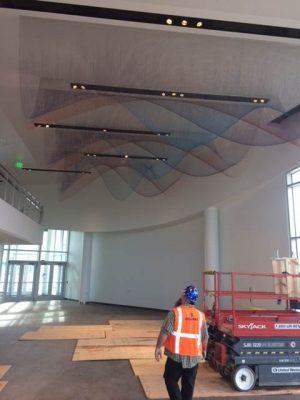 The center's first  public art piece is located in the Murray and Betty Ross Lobby and is valued at about $250,000. The piece covers the lobby's ceiling entirely with over 15 miles of strands of colored ball chain.
A committee of campus representatives selected Ball-Nogues Studio from about 200 proposals. Murray Ross, founder and artistic director, Theatreworks, served on the committee before his death. Daisy McGowan, director, Galleries of Contemporary Art, chaired the committee.
"The work of Ball-Nogues was perceived by the selection panel to be both of this time and timeless – important qualities in a permanent sculpture selection," McGowan said. "Jaws routinely drop when they see the work of this collective for the first time in a space."
Ball-Nogues work has appeared in a variety of publications including the New York Times, Los Angeles Times, and The Guardian.
"I am very excited for the public to experience the artwork when the center opens in January." McGowan said.
Learn more about Colorado Creative Industries (CCI) here.