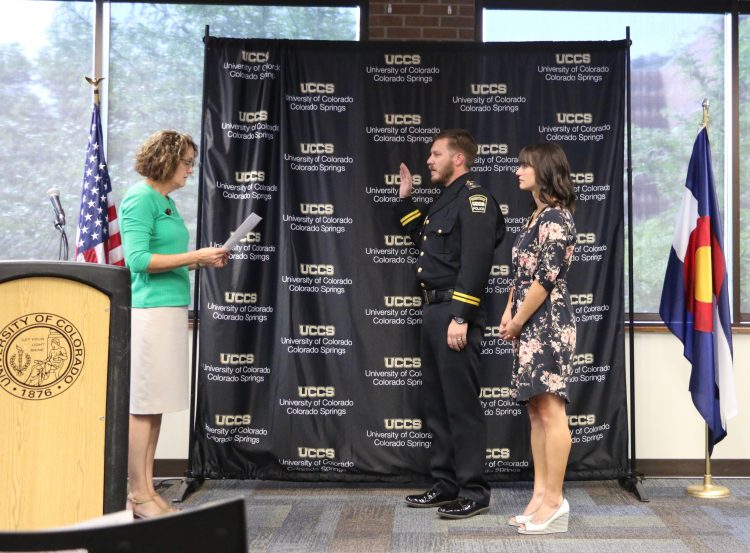 Marc Pino was sworn in as the seventh UCCS police chief during a ceremony June 28 on campus. He was joined by campus and Colorado Springs community members in celebrating the accomplishment.
"Chief Pino demonstrates the qualities and skills necessary for a successful career in campus law enforcement," Chancellor Venkat Reddy said. Pino has been at UCCS for 15 years and began as a student employee with the Department of Public Safety in 2004.
Steve Linhart, associate vice chancellor, Dean of Students Office, talked about Pino's first day as a student employee – which was same day the Department of Public Safety moved into Gateway Hall. As Linhart, who was a sergeant at the time, showed Pino what to move, he joked with him "I brought you into this world, I can take you out."
Over the years, as Linhart watched Pino move through the police department ranks, he's changed his joke to: "I brought you into this world and at any moment you can take me out."
Susan Szpyrka, senior vice chancellor, Administration and Finance, administered the oath of office. She is a former chief of police.
"I am grateful for the opportunity to give back and serve the UCCS community that has given so much to me," Chief Pino said. "The police department will continue to be visible, accessible, and responsive."
Pino is a Colorado Springs native. After graduating from Doherty High School, he received his bachelor's degree from UCCS and will soon complete his master's degree in the School of Public Affairs. He has also been accepted into the FBI's National Academy, a premier provider of training for senior law enforcement personnel.
As chief of police and executive director of the Department of Public Safety, Pino oversees 36 employees, including 18 officers as well as employees in dispatch, environmental health and safety, administration, emergency management, and campus security.
– Photos by Savannah Waggoner and Tom Hutton