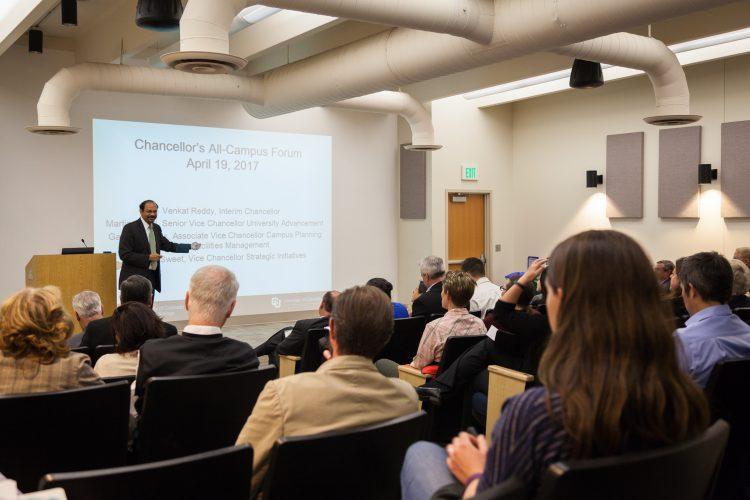 Explanations of how UCCS is assisted by donors and partnerships with external organizations dominated an April 19 Chancellor's All-Campus Forum.
Martin Wood, senior vice chancellor, University Advancement, explained the role of fundraising as well as a cybersecurity effort that brings together the university, state government and private industry. Charles Sweet, vice chancellor, Strategic Initiatives, provided an update on the William J. Hybl Sports Medicine and Performance Center. Gary Reynolds, associate vice chancellor for campus planning and facilities management, Administration and Finance, updated the status of the Ent Center for the Arts.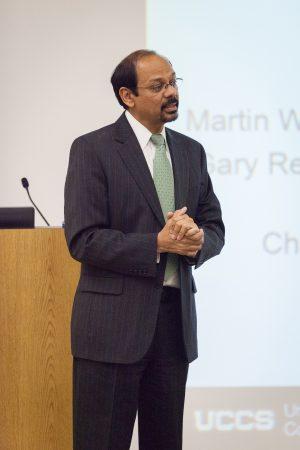 "Enrollment and retention is our main source of revenue," Venkat Reddy, interim chancellor, said. "But we also need to diversify revenues to make a lot of things happen on this campus. Diversification doesn't happen if we just keep on bringing in more students. We have a lot more stakeholders than just students, including community, donors and alumni."
Wood explained that UCCS private support grew 339 percent over the last decade, including $19.3 million last year. Donors fund scholarships and support faculty and programs, often through endowments.
As examples of assistance from donors, Wood cited $4.5 million annually in student scholarships, new faculty endowed chair positions, and capital contributions that provided $11 million for the Ent Center for the Arts, the McCord-Herbst Student Center, Kraemer Family Library, Osborne Center for Science and Engineering, the Lane Center for Academic Health Sciences and Dwire Hall's renovation.
"Fundraising does make a difference," Wood said. "It does have impact. It makes things happen. If I think back 20 years ago, fundraising was really looked at as one of those things that gave you a little bit of extra money to do things that you couldn't from state budgets. Not that way today. Now, it's an integral part of the university's budget."
Wood also shared that the National Cybersecurity Center will move into a university-owned building on North Nevada Avenue currently occupied by the Colorado Springs Expo Center and formerly owned by TRW Corp. Moves are expected in late summer. The project received $8 million from the State of Colorado to finance building renovations. UCCS is conducting a search for the Gallogly Endowed Chair in Cybersecurity-Engineering as well as graduate-level cybersecurity certificates in behavioral sciences.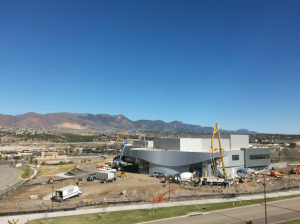 Ent Center for the Arts
Reynolds shared details of the Ent Center for the Arts – what he called "the silver spaceship on North Nevada."
"From the car seat to the venue seat, we've set out to create superior experience," Reynolds said.
Experts in acoustics, as well as architects with experience in designing performing arts buildings, are leading the construction and sweating details. As an example of details, Reynolds shared that seat cushions were selected to ensure superior sound.
The Ent Center is scheduled to open in Jan. 2018. Friday afternoon tours are available by contacting Reynolds, [email protected]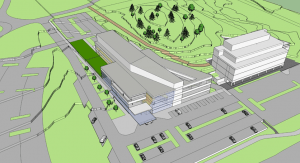 William J. Hybl Sports Medicine and Performance Center
Sweet shared details of the William J. Hybl Sports Medicine and Performance Center. The 100,000-square-foot building will be located next to the Lane Center for Academic Health Sciences and will feature medical clinics, teaching labs, performance areas and classrooms.
"The building is designed to have collision spaces so that students and clinicians, researchers and faculty can interact with each other," Sweet said.
In February, UCCS entered into a letter of agreement with Penrose St. Francis Centura Health outlining how the two organizations will work together to operate and construct the facility. In March, a program plan was completed. In June, the program will be presented to the CU Board of Regents for approval. Project completion is expected in late 2019.
— Photos by Jeffrey M Foster