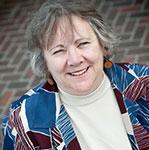 Sue Davis, senior instructor, Helen and Arthur E. Johnson Beth-El College of Nursing and Health Sciences, was recently selected as the subject of a Faculty at Work profile by the Faculty Resource Center.
Davis was cited for her efforts to improve student engagement by flipping the classroom order. Instead of what she calls the "sage on the stage" teaching style, Davis uses Blackboard to hold recorded lectures and videos. She expects her students to watch the videos and read the text before coming to class. This allows class time to be devoted to scenarios and activities that reinforce the recorded lectures and texts.
"I dress in my sterile operating room outfit and ask students to think about why I wear it," Davis wrote recently. "I am available to all of my students individually, within small groups and as a class. In my flipped classroom, you will hear laughter, vibrant discussions and a lot of noise. You will see students taking ownership of their class."
Read more about Davis' thoughts about changing classroom dynamics (PDF).
Related Posts: