Jesse Gatlin, 93, a lecturer in the English Department from 1977 to 1985 and who later volunteered as an actor in the simulation center at the Helen and Arthur E. Johnson Beth-El College of Nursing, died Dec. 9 following a short illness.
An obituary, as prepared by family members and published in the Colorado Springs Gazette, follows. To provide online condolences, visit http://www.legacy.com/obituaries/gazette/obituary.aspx?n=jesse-c-gatlin&pid=183122147&fhid=6109
Jesse C. Gatlin Jr.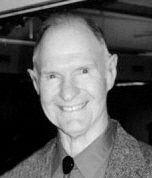 Brigadier General (Retired) Jesse C. Gatlin, Jr., 93, died on December 9, 2016. Born September 30, 1923 in Creswell, North Carolina to Jesse Sr. and Alice Moore Gatlin, Jesse "Jake" graduated from Creswell High School in 1941 and attended the Oak Ridge Military Academy before entering the United States Military Academy at West Point in July 1942.
The day after his June 1945 graduation, he immediately married the love of his life, Audrey Meyer, and together they served in the U.S. Army Air Corps and then the U.S. Air Force for more than 31 years until his retirement in December 1976. During his career, he flew for 17 years as a pilot in twelve different aircraft, including the B-25, B-17, P-47, B-26, T-33, C-45, and C-47, his favorite – the Gooney Bird. His assignments included tours of duty in Austria, Germany, England, and Canada. He was a radiological officer during the Nevada nuclear tests in the early 1950s before attending the University of North Carolina, where he received his Master of Arts degree in English in 1957 and then joined the faculty of the USAF Academy at Lowry Air Force Base, Denver. He earned a Doctor of Philosophy degree in American Literature at Denver University in 1961, after which he and his family moved to the USAF Academy in Colorado Springs where he served as Professor and Head of the English Department from 1965 until his retirement. He then taught American Literature at UCCS as a part-time instructor from 1977 to 1985 and one year as a volunteer teacher at St. Mary's High School in 1986-1987. For the past 30 years, he also volunteered teaching American Literature at the Colorado Springs Senior Center.
His wife of 68 years, Audrey, died in December 2013 of Alzheimer's disease. They are survived by their four children: Jesse III, 1968 West Point graduate and retired U.S. Army Colonel and his wife Ann; Donna Hinman, wife of retired Colonel Craig G. Hinman, 1969 USAFA graduate; John R., UC Boulder graduate; and Joseph A., Western State College graduate; Dawn Burns, close family friend; eight grandchildren: Jesse IV (Kristi), Jeffrey (Melissa), Brett (Larissa), Christie (Dave), Nicki (Robbie), Tyler (Amy), Joseph (Ashleigh), and Cora Blue (Bill); and eleven great grandchildren.
A Memorial Service will be held at 10:00 AM, Monday, January 30, 2017, at Shrine of Remembrance "America the Beautiful" Chapel, 1730 East Fountain Boulevard, Colorado Springs, CO 80910. Following a procession to the USAFA, BG Gatlin will be interred with his wife with full military honors at a graveside service at noon, January 30, 2017 at the USAFA Cemetery.In lieu of flowers, the family suggests any contributions be made to the Jesse Gatlin Memorial Fund, c/o Association of Graduates, USAF Academy, CO 80840.