Parking and Transportation Services will debut a new 40-foot bus next week. It will be hard to miss – the bus will be the biggest ever on campus.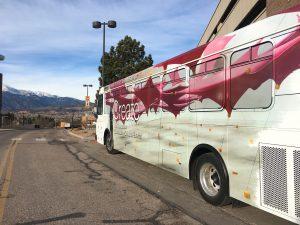 The $300,000 bus, which is wrapped in vinyl to promote campus arts programs, comes with a variety of upgrades from others used to transport students, faculty and staff.
Features include:
• 45 seats with handles for standing, with capacity of at least 60 people
• A Thermo King HVAC heating and cooling system
• LED signs on outside of bus displaying the route
• Dual doors, with a handicap lift on rear bus door
• Three bike racks
• Railings for advertisements inside of bus
"We put a lot of time and effort in deciding what would fit the campuses needs in terms of a bus," said James Rehkopf, transportation field manager, Parking and Transportation Services.
The new bus has a lifespan of 10-12 years; previous buses are in service for about seven years. This bus is more heavy-duty, which will help reduce downtime compared to older buses. The bus can also "kneel" in the front to help passengers get into the bus more easily.
"We're most excited about being able to move people more efficiently through this bus," said Jim Spice, executive director, Parking and Transportation Services.
Clubs and athletic team will benefit by being able to take one charter bus rather than multiple buses, as older buses seated 33 people.
The bus is scheduled to run from one of the free parking lots, lot 576, to Centennial Hall.
To see the shuttle schedule, visit: http://www.uccs.edu/pts/transportation/shuttle-schedules/bus-schedule.html
View the campus map: http://www.uccs.edu/Documents/pts/parking/campus_map_2016.pdf
– Photos and video by Savannah Waggoner