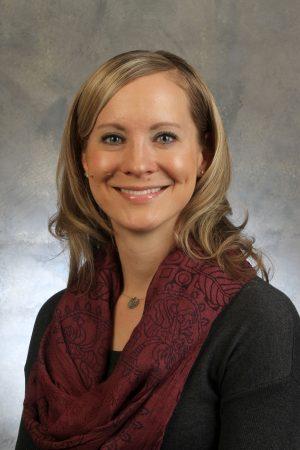 Visitors to Dwire Hall can't help but notice how bright, open, and welcoming the space is. Those who work with Employee of the Quarter Kara Carragher, human resources and business specialist, College of Business, maintain that she radiates the same qualities. Her cheerful presence is a delight to all and she is said to bring passion as well as positivity to her work.
These attributes, as well as her stellar work ethic, prompted Carragher's colleagues to nominate her as the UCCS Employee of Quarter.
Known to be the "go-to" person in her department, Carragher juggles the onboarding of new employees in the College of Business including pre-employment screening, interview scheduling and coordination of travel and itineraries for candidates. During the last quarter of 2016, Carragher supported College of Business search committees in hiring four staff and three faculty members, a record number for the college, which averages approximately two new hires per year.
Venkat Reddy, dean, College of Business, commended Carragher for her expertise as well as her enthusiasm.
"Even during times of extreme stress and inevitable change, Kara remains positive and a consummate professional," Reddy said  "I rely heavily upon her for support in everything from personnel issues to the annual promotion and tenure process. I value her advice, good judgment and her unflappable enthusiasm."
Carragher was instrumental in the upgrade of a new human resources system implemented in December 2015. As with any new system, there were complications. According to Carragher's colleagues, it was just another opportunity for her optimism and resolve to shine.
"Instead of complaining or avoiding the newly installed system, she attacked it by testing the system, working through the problems, and forwarding fixes and improvements," Gregory Krems, financial and operational assistant, Information Technology, said.
After completing her undergraduate degree at Colorado State University, Carragher was drawn to UCCS where she received her master's in biology in 2011. Following graduation, she spent six years working for a defense contractor but aspired to work in higher education. The UCCS sense of community drew Carragher back to campus. She began working in academic advising, then became a program assistant and was ultimately offered her position in the dean's office in the College of Business in May 2015.
Recognition as Employee of the Quarter was a surprise for Carragher.
"I am so honored, I know there are many employees deserving of this award," she said.
Carragher devotes her free time to birding, hiking, and cycling. When asked about her goals and aspirations, she said, "I am where I have always wanted to be."
As Employee of the Quarter, Carragher receives $100, a designated parking spot as well as free parking for three months, a certificate of recognition, $40 worth of UCCS Bookstore goods and one day of administrative leave.
Want to nominate someone you know who makes a difference on campus? Visit http://www.uccs.edu/staff/employee-awards/employee-of-the-quarter.html.