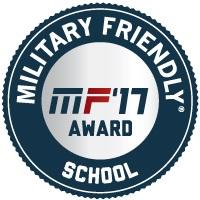 UCCS is one of the top universities in the nation for supporting students associated with the military.
Victory Media, Pittsburgh, Pennsylvania, publisher of "G.I. Jobs" and several other publications for veterans and their families, recently named UCCS a Gold Level Military Friendly school in its 2017 Military Friendly Schools and Employers listing. Ranking factors included student veteran retention, graduation, job placement and loan repayment. A complete list, as well as an explanation of the ranking methodology, is available at www.militaryfriendly.com.
"Education is vitally important for military service members and veterans transitioning to the civilian world," Phillip Morris, director, Office of Veteran and Military Student Affairs, said. "As as a campus, we are committed to helping service members, veterans and their families reach their personal goals."
The Military Friendly Awards showcased the most powerful and effective programs of more than 200 companies and 1,200 post-secondary schools. In November, UCCS was included in an initial recognition. In December, UCCS and CU campuses in Denver and Boulder received additional recognition placing them in the top 500 schools nationally.
Founded in 2001, Victory Media is a service-disabled, veteran-owned small business that connects the military community to civilian employment, entrepreneurial and education opportunities.
More than 2,000 military veterans, active military, and family members are enrolled at UCCS.
— Jenn Watton, Office of Veteran and Military Student Affairs