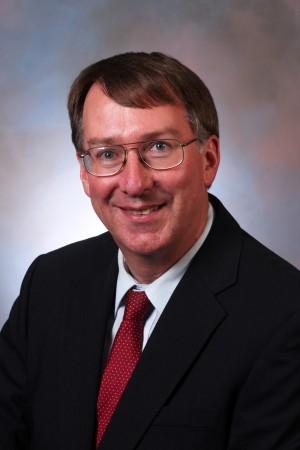 A respected, longtime UCCS faculty member and former dean of the university's largest college will serve as provost and executive vice chancellor for academic affairs.
Tom Christensen, professor, Physics and Energy Science Department, and co-director of the UCCSTeach program, was selected following a national search. Three finalists visited campus in October. His appointment was announced by Chancellor Pam Shockley-Zalabak.
"Dr. Christensen's knowledge of this campus, when combined with proven leadership record, make him the right person to lead the academic mission of the university," Shockley-Zalabak said. "I am pleased that Tom has accepted this challenge and look forward to working with him."
The provost is the chief academic officer for the university. The deans of seven UCCS colleges and the Kraemer Family Library will report to Christensen who will be provost-elect until July 1, 2017. He will spend the spring semester teaching and completing research and administrative obligations while working in transition with Terry Schwartz, interim provost. He will take over the provost position July 1, 2017. Schwartz has held the provost position on a temporary basis since October 2015.
"I am delighted to serve the campus in this role," Christensen said. "I look forward to working with our faculty, staff and students to strengthen our inclusive community of scholars."
Christensen joined UCCS in 1989 as an assistant professor, was promoted to associate professor in 1994 and professor in 2007. He served as dean of the College of Letters, Arts and Sciences from 2005 to 2012 and was previously interim dean of the college and chair and co-chair of the Physics and Energy Science Department. Since 2012, he has served as co-director of UCCSTeach, an innovative program that encourages science and math majors to teach at the secondary school level.
His awards include the Excellence in Leadership Award from the CU System, the UCCS Chancellor's Award and Outstanding Teaching Awards from the university and the College of Letters, Arts and Sciences.
He earned a bachelor's degree from the University of Minnesota, Minneapolis, and master's and Ph.D. from Cornell University, Ithaca, New York.
Shockley-Zalabak thanked the provost search committee which was chaired by Tom Huber, professor, Geography and Environmental Science Department, and Christina Martinez, associate dean, Kraemer Family Library. Other members included Anatoliy Glushchenko, professor, Physics and Energy Science Department; Jackie Berning, professor, Helen and Arthur E. Johnson Beth-El College of Nursing and Health Sciences; Gregory Stock, professor, College of Business; Nina Polok, program executive, Bachelor of Innovation Program; Kee Warner, associate vice chancellor for inclusion and academic engagement, Academic Affairs; Edward Chow, professor, College of Engineering and Applied Science; Valerie Martin Conley, dean, College of Education; David Khaliqi, director, Pre-Collegiate Support and Success Center; Katherine Wright, student; Susan Szpyrka, senior vice chancellor, Administration and Finance; Liz Moore, ethics initiative coordinator, College of Business; Susan Taylor, professor, Department of English and David Fenell, professor, College of Education.