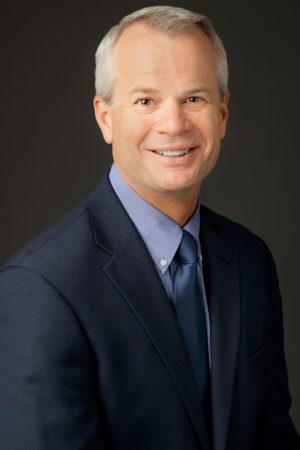 Harper Johnson, currently director of enterprise solutions, Northern Arizona University, Flagstaff, will become the chief information officer and associate vice chancellor for information technology at UCCS.
Johnson was selected following a national search. His appointment was announced by Chancellor Pam Shockley-Zalabak. He will begin at UCCS Jan. 3, 2017.
"Harper Johnson brings to UCCS a quarter century of varied and progressively more responsible information technology experience," Shockley-Zalabak said. "His experiences in private industry and university environments make him uniquely qualified to lead this important sector of the university."
Since 2000, Johnson has led various facets of NAU's information technology in support of students, faculty and staff. As director of enterprise information systems, his position since 2011, his accomplishments included implementation of a new customer relationship management system for integrated planning and advising, replacement of finance and grants software, centralization of administrative and academic support teams and serving as a technical leader for Arizona's Tri-University research data portal.
"I am excited to join the UCCS community, the IT organization and the CU System," Johnson said. " I am looking forward to the opportunity to work closely and collaboratively with students, faculty and staff to build upon the sound foundation in place; to develop and execute a technology strategy that continues to advance UCCS's focus on the success of our students, teaching, research and community."
Before joining NAU, Johnson worked for National Computer Systems, an education software company in Mesa, Arizona. He served in the United States Air Force where he attained the rank of captain and was a KC-135R Stratotanker pilot.
Johnson earned a bachelor's degree from the United States Air Force Academy and a master's degree from the University of Phoenix.
Johnson replaces Jerry Wilson who retired this summer after 31 years of service.
Venkat Reddy, dean, College of Business, and associate vice chancellor for online education and initiatives, chaired the search. Committee members were David Anderson, associate professor, Department of Chemistry and Biochemistry; Anthony Cordova, director, Multicultural Office for Student Access, Inclusiveness and Community; Greg Williams, director of networks and infrastructure, Information Technology Department; Larry Levine, associate vice chancellor,  Information Technology, CU Boulder; Martin Garnar, dean, Kraemer Family Library; Russ Poole, associate vice chancellor, Information Technology, CU Denver; Thomas Conley, information security officer, Information Technology Department; Vicki Brownrigg, assistant professor, Helen and Arthur E. Johnson Beth-El College of Nursing and Health Sciences. Shawn Hood, assistant, Office of the Chancellor, served as staff support for the committee.