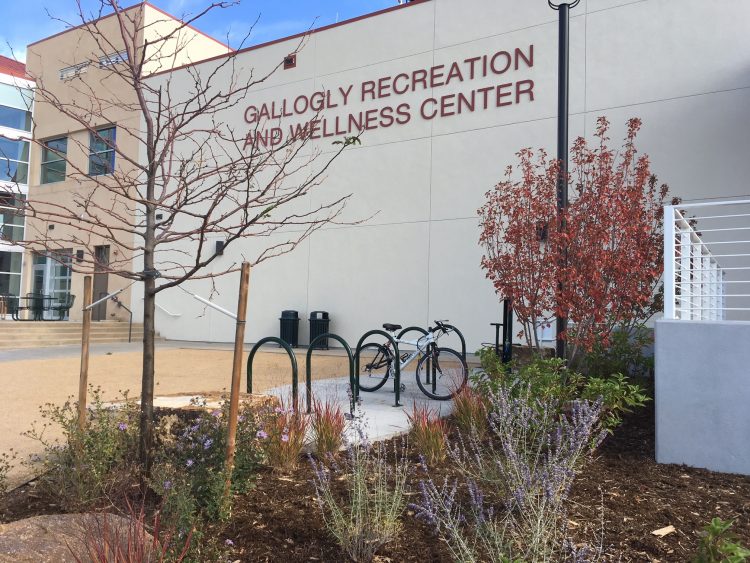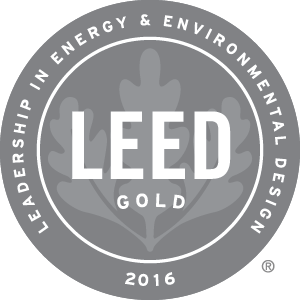 The Gallogly Recreation and Wellness Center recently was awarded Leadership in Energy and Environmental Design Gold certification.
Linda Kogan, director, Office of Sustainability, recently shared the results of an external review that certified the recently expanded home for recreation and wellness activities as a leader in energy and water conservation, sustainability and efficiency. The addition of Gallogly Recreation and Wellness brings the UCCS total to nine buildings certified to LEED Gold.
The other buildings are the first phase of the Campus Recreation Center, Copper and Eldora student housing, Centennial Hall, Lane Center for Academic Health Sciences, Academic Office Building, Osborne Center for Science and Engineering and the Gallogly Events Center.
According to Linda Kogan, innovations that led to the LEED certification include
A 60 percent reduction in irrigation water use through native landscaping, effective stormwater management and efficient irrigation systems.
A 30 percent reduction of water and energy consumption in the building by using low-flow fixtures and Energy Star appliances.
More than 85 percent of construction debris was recycled.
Incorporation of active design cues such as stairways.
In February, the campus celebrated the opening of the $16.3 million transformation of the campus Recreation Center to a Recreation and Wellness Center. On Oct. 17, the building was named in honor of the Gallogly family.
The 49,000 square foot expansion includes 10,000 square feet dedicated to the Wellness Center which combines the Student Health Center, previously in the Austin Bluffs Parking Garage, and University Counseling Center, previously in Main Hall. The new expansion includes group exercise rooms to aid those who are hearing impaired, more than $400,000 in new cardio and strength equipment, new locker rooms, gender neutral restrooms and basketball courts complete with height adjustable goals. The facility also boasts equipment to assist campus community members with disabilities and an entrance with paneling made from beetle kill pine.
Developed by the U.S. Green Building Council. LEED is the most widely used green building rating system in the world with around 1.85 million square feet of building space certified daily.
Projects pursuing LEED certification earn points across several areas that address sustainability issues. Based on the number of points achieved, a project then receives one of four LEED rating levels: Certified, Silver, Gold and Platinum.
For more information about LEED certification, visit http://www.usgbc.org/leed or contact Kogan, [email protected] or 255-3757.
Related posts