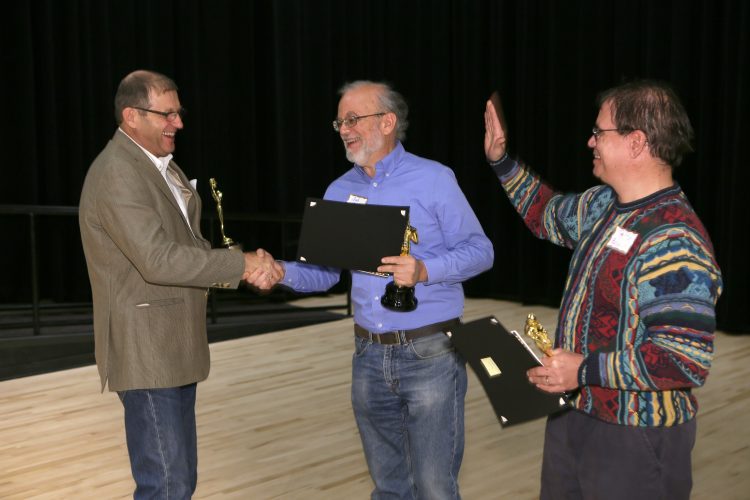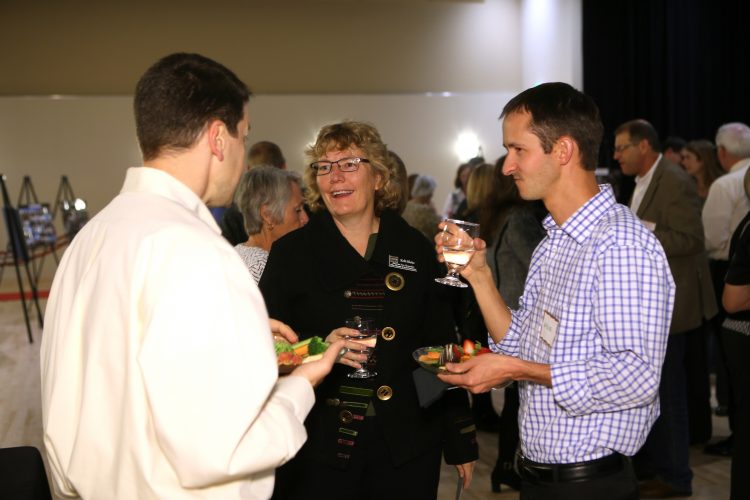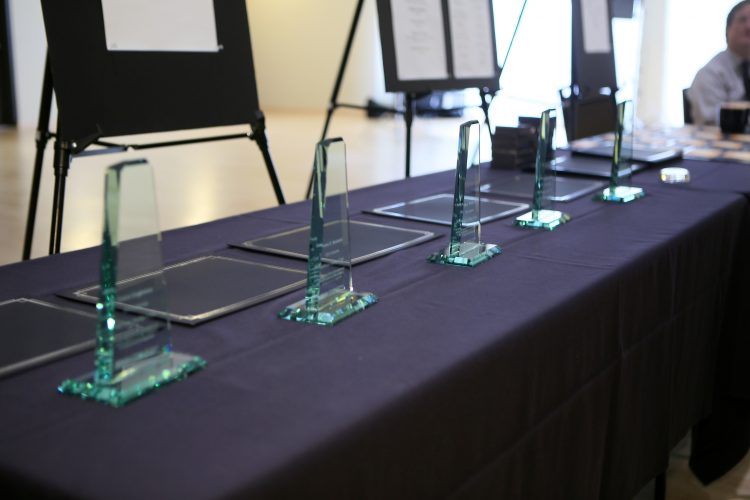 The Office of Sponsored Programs and Research Integrity rolled out the red carpet for UCCS faculty and staff members Wednesday afternoon, showering them with recognition for pursuing the university's research mission with vigor.
The red carpet treatment included a string music ensemble, chocolate coins, hors d'oeuvres and Oscar-style awards for three faculty who in their careers have generated more than $10 million in sponsored research. In addition, a $40,000 scholarship was set up in honor of the three faculty in the $10 million group to provide funding for at least two graduate students during a two-year period.
Interim Provost Terry Schwartz delivered the awards with assistance from Kelli Klebe, associate vice chancellor for research and faculty development, Academic Affairs.
Those honored were:
$10 million Recognition
Terrence Boult, El Pomar Endowed Chair of Innovation and Securiy.
Bob Camley, professor, Physics and Energy Science Department
Zbigniew Celinski, professor, Physics and Energy Science Department
$1 million Recognition
Laura Engleman, business services program director, UCCS Aging Center
Anna Kosloski, assistant professor, School of Public Affairs
Phillip Morris, program director, Office of Veteran and Military Student Affairs
Stephanie Bontrager Ryon, assistant professor, School of Public Affairs
Amy Silva-Smith, associate dean, Helen and Arthur E. Johnson Beth-El College of Nursing and Health Sciences
Heriikka Weir, assistant professor, School of Public Affairs
Received First Award
Valerie Martin Conley, dean, College of Education
Sylvia Mendez, associate professor, College of Education
Martin Garnar, dean, Kraemer Family Library
Rhonda Glazier, assistant professor, Kraemer Family Library
Willie Harrison, assistant professor, College of Engineering and Applied Science
Meghan Lybecker, assistant professor, Biology Department
Zachary Mesyan, associate professor, Mathematics Department
Mary Ann Kluge, professor, Helen and Arthur E. Johnson Beth-El College of Nursing and Health Sciences
Janusz Hanckiewicz, senior research associate, Biofrontiers Center
Submitted First Proposal
Katie Anderson-Pence, assistant professor, College of Education
Tatiana Bailey, director, UCCS College of Business Economic Forum
Oksana Bihun, associate professor, Mathematics Department
Andrea Bingham, assistant professor, College of Education
Dustin Bluhm, assistant professor, College of Business
Veronica Corral-Flores, senior research associate, Biofrontiers Institute
Elizabeth Daniels, assistant professor, Psychology Department
Jacalyn Dougherty, assistant program director, Helen and Arthur E. Johnson Beth-El College of Nursing and Health Sciences
Thomas Duening, El Pomar Endowed Chair of Business and Entrepreneurship
Donald Gardner, professor, College of Business
Martin Garnar, dean, Kraemer Family Library
Susan Garrett, instructor, Helen and Arthur E. Johnson Beth-El College of Nursing and Health Sciences
Rhonda Glazier, assistant professor, Kraemer Family Library
Guy Hagen, research associate, Biofrontiers Center
Kelley Henderson, laboratory support, Biology Department
Scott Kupferman, assistant professor, College of Education
Rebekah Lynch, assistant professor, Helen and Arthur E. Johnson Beth-El College of Nursing and Health Sciences
Jeff Montez de Oca, associate professor, Sociology Department
Christi Piper, instructor, Kraemer Family Library
Joel Tonyan, assistant professor, Kraemer Family Library
Emilie Vrbancic, assistant professor, Kraemer Family Library
Brandon Runnels, assistant professor, College of Engineering and Applied Science
Colin Wren, assistant professor, Anthropology Department
Monica Yoo, assistant professor, College of Education