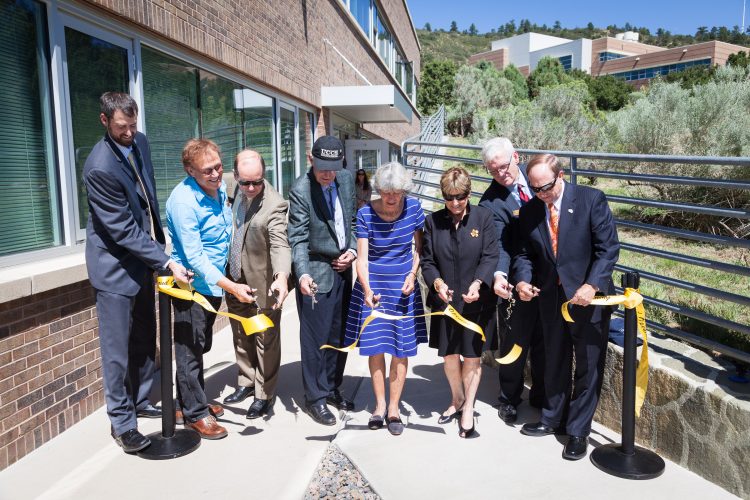 With speeches and a ribbon cutting, city and university leaders joined with donors to officially open the McCord-Herbst Student Veterans Center Friday afternoon.
Chancellor Pam Shockley-Zalabak was joined by Phillip Morris, director, Office of Veteran and Military Student Affairs; Colorado Springs Mayor John Suthers; Martin Wood, senior vice chancellor, University Advancement; Clancy Herbst, and Sue McCord in speaking about the importance of the new center.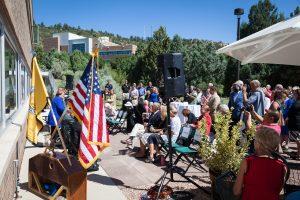 "Clancy Herbst has been supporting active duty and veterans on our campus for a long time now and making a profound difference in individual lives," Shockley-Zalabak said. "He does that quietly. He does that with philanthropy and with personal attention."
Shockley-Zalabak cited research showing that having a designated veteran center gathering space improves retention and graduation rates. She also lauded the services that will be offered in the new center, including academic counseling, financial counseling and referral services.
"Our campus is stronger because of the presence of active duty and student veteran military members," Shockley-Zalabak said.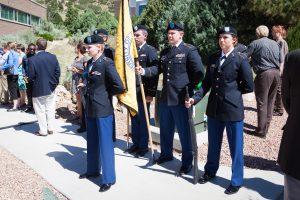 About 20 percent of the UCCS student body has military ties.
In his remarks, Herbst gave thanks to veterans and lauded his friend Charlie McCord, the former head of the CU Foundation.
"It is a privilege for Sue McCord and my wife, Linda, and me to support this campus," Herbst said.
Sue McCord, widow of Charlie McCord, said: "We would not be here today celebrating if not for Clancy Herbst. Charlie loved his role as the foundation president and working with his wonderful staff and so many generous alums across the country. Thank you for being here today to celebrate Charlie's and  Clancy's role and love for CU. I wish Charlie could be here to celebrate but perhaps he's watching from above."
Herbst, of Chicago and Aspen, received the University Medal for his two decades of service to the CU Foundation Board of Trustees. He was chairman of CU's Frontier 2000 capital campaign from 1986 to 1993, and served as honorary chairman of the Beyond Boundaries campaign from 1996 to 2003.
The Herbsts committed $400,000 to the project that remodeled 2,100 square feet for use as office space used by staff that assists veteran and military students and as a student lounge.
The Office of Veteran and Military Student Affairs was previously located on the eastern edge of the UCCS campus in a former private residence.
— Photos by Jeffrey M Foster