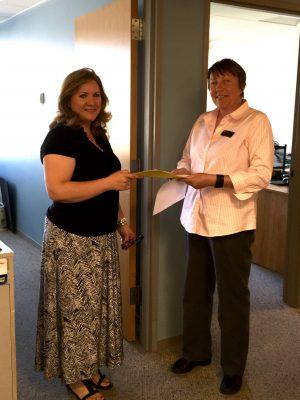 Ellie Cassio, consultant, Office of Human Resources, wasn't aware the employee of the quarter program even existed until she received the award.
Heather Kling, program manager, Office of Veteran and Military Student Affairs, nominated Cassio for the award, saying, "Cassio's outstanding customer service and collegial manner with campus staff contributes to the positive campus environment."
Kling's office was moving to a different location also while trying to hire new positions. Cassio made this transition easier by guiding the office through the new university Elevate computer system and the hiring process in a timely matter. She did this with great willingness and good humor, according to Kling. In the nomination letter, Kling said "Cassio's patience, collaborative nature, attention to detail and technical excellence contributed immeasurably to the growth of our department and our organizational knowledge; because of this, our unit will be able to serve the military affiliated student (14 percent of campus population), the university and the community much better and more efficiently."
Cassio said she was one of many in the Office of Human Resources who delivered top-class service when transitioning to the new Elevate system. "I really believe every person in our office deserves this award, everybody works so hard," she said.
Cassio said her favorite aspects of working at UCCS include being able to help others and being part of a university that respects its employees.
Cassio has been with UCCS for two years. She will receive a certificate, a day of administrative leave, $100 stipend, three months of free and reserved campus parking and a $40 voucher at the UCCS Bookstore for her hard work.
Want to nominate someone you know who makes a difference on campus? Visit http://www.uccs.edu/staff/employee-awards/employee-of-the-quarter.html.