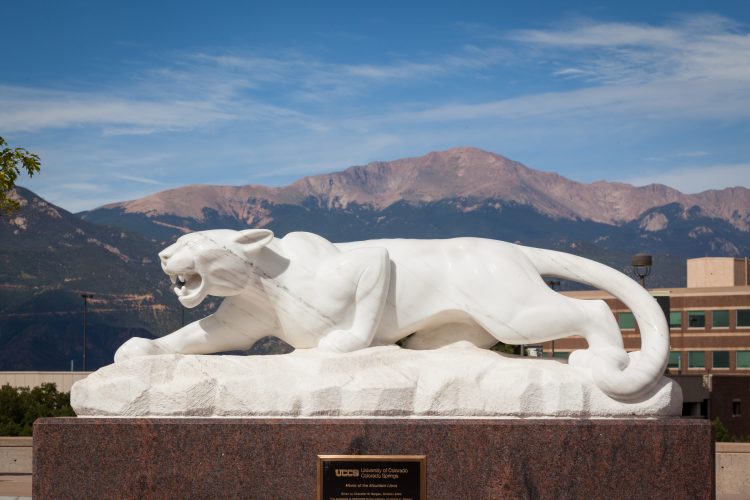 The mountain lion sculpture at El Pomar Plaza is more than a UCCS symbol and magnet for visitors eager for pictures with a Pikes Peak backdrop.
The two-ton Colorado marble slab, hewn by Colorado sculptor Ernest Geolfos, is the personal Taj Mahal for Chandler Bergen of Colorado Springs. Bergen purchased it as a monument to his late wife and gave it to the university.
"Throughout World War II, she exhibited the courage of a mountain lion," Bergen said of his wife, Melitta. "She was mountain lion strong."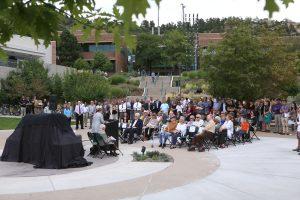 During rededication ceremonies Aug. 23, Bergen recounted Melitta Bergen's personal story, including the takeover of her Estonian hometown by Russian and German armies, the death of her brother and first husband at the hands of Russian soldiers, her forced labor for the German army, eventual flight to the U.S., and marriage to Bergen.
Bergen, 96, is a retired U.S. Army Lt. Colonel whose second career included positions with Western Horseman magazine. He shared both a history lesson and love story to the roughly 200 people who attended the afternoon ceremony. Guests included Bergen's friends, UCCS Mascot Clyde and more than 50 campus student-athletes. Chancellor Pam Shockley-Zalabak and Geolfos also offered brief remarks.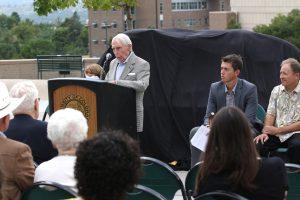 Shockley-Zalabak thanked Bergen for the 2004 gift that brought the mountain lion from an Aspen gallery to a space near the University Center entrance. She also recounted anxious moments in March, when crews using a crane moved the mountain lion to its new location.
"I was standing right by Chan, which is a good thing," Shockley-Zalabak said. "But I was scared that something might go wrong. It didn't, and the mountain lion found a fabulous new home."
Related Posts:
–Photos by Jeffrey M Foster and Tom Kimmell