Work is underway on a renovation of the kitchen and food areas of The Lodge to allow for better flow of diners as they check in and get their meals, additional menu options and better equipment in the kitchen.
The $2 million renovation incorporates what Mark Hayes, director, Dining and Hospitality Services, calls a "micro restaurant" concept, similar to that of Roaring Fork, the dining facility in Alpine Village.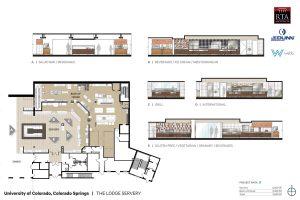 Renovation work on The Lodge, in Summit Village, includes:
Remodeling the entryway to create a more open area
Creating and expanding food areas, including a larger salad bar, a separate area for allergy- and gluten-free foods and a new ice cream bar
Building and expanding stations for an international grill, a bigger pizza area and a Mediterranean food area
Creating better locations for such things as beverages and utensils
Installing new kitchen equipment
"It's updated equipment, the flow is going to be better, and it's going to be a little bigger because we're pushing the walls back," Hayes said of the renovation.
The dining area will not be renovated.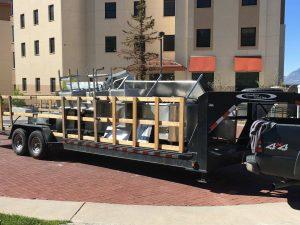 The renovation will be complete by mid-July, and the first meal served will be dinner on the day the residence halls open for move-in. The Lodge serves about 1,600 meals daily when school is in session.
"It worked when we built it, but it didn't keep up with the growth of the campus," Hayes said.
Photos courtesy UCCS Dining and Hospitality Services