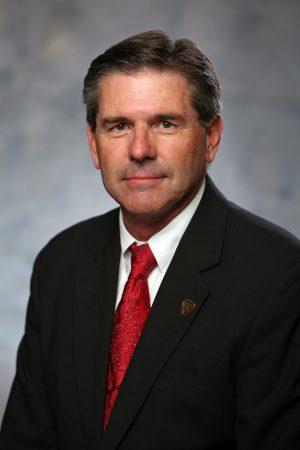 Steve Kirkham, athletic director since 2004, will retire June 30, completing an almost 40-year coaching and athletic administration career.
"I've been extremely lucky my entire career with the people I have worked with," Kirkham said. "Under the leadership of Chancellor Pam Shockley-Zalabak, and the hard work of many exceptional people, we created a culture of success in the classroom, and on the fields of competition. I'm excited to follow what happens next for the Mountain Lions as Coleen and I begin the next chapter of our lives."
Since he became athletic director, Kirkham has overseen 11 of the school's 17 conference championship teams, all seven of its Academic All-Americans and 42 of the institution's 61 All-Americans. Mountain Lion student-athletes achieved a 3.00 or higher departmental grade-point average for the last 23 semesters and reached as high as a 91 percent NCAA Academic Success Rate in his tenure. This year, teams from UCCS won 59 percent of their games and every team qualified for its respective RMAC tournament.
Every sport facility at UCCS has been renovated or constructed in his 12-year span as athletic director, and planning is underway for a new baseball stadium and indoor track and field facility. Two new sports in women's soccer and women's golf began competition under Kirkham, and two more sports in baseball and women's lacrosse will begin competition in spring 2017. Total scholarship funding increased from $250,000 in 2004 to more than $1 million in the 2015-16 academic year.
Kirkham has served on the Division II selection committees in men's basketball, women's basketball and men's golf.
"Steve Kirkham made Mountain Lion teams into contenders at every sport while never forgetting that UCCS student-athletes are, first and foremost, students," Shockley-Zalabak said. "Director Kirkham demonstrated that you can be a winner in the classroom and on the court."
Kirkham arrived at UCCS after a 16-year coaching career in women's basketball at Colorado Mesa University. He was inducted into the CMU Hall of Honor in 2011. He was also the head women's basketball coach at Butler County (Kansas) Community College, assistant football coach at Durant (Oklahoma) High School, assistant women's basketball coach at Fort Hays (Kansas) State University and head girls basketball coach at St. Francis (Kansas) Community High School. He will celebrate his 62nd birthday this summer.
Kirkham will move with his wife, Coleen, to St. Francis, Kansas, following his retirement. St. Francis is Coleen Kirkham's hometown.
A search committee will be formed to review applicants and make recommendations to Shockley-Zalabak for Kirkham's replacement.