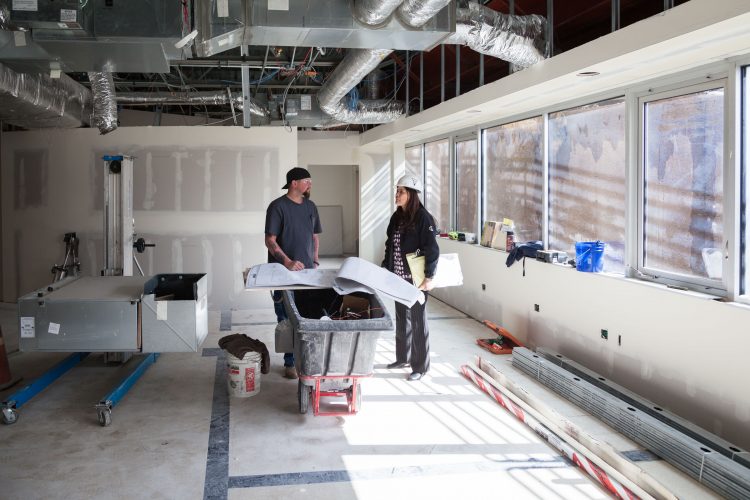 Where students were once examined for strep throat, contractors are creating a new home for military students and the Office of Veteran and Student Military Affairs.
Dust flew this week as workers sanded newly mudded drywall, pulled wires and prepared a new entrance to the former Student Health Center. By the end of June, exam rooms will become offices and common spaces will be decorated with a big screen television, coffee bar and comfy chairs. The vibe is intended to be more Starbucks than healthcare or university classroom.
When complete, the space will be called the McCord-Herbst Veteran and Military Student Center in honor of donors and longtime CU Foundation leaders. Grand opening ceremonies are planned for the fall.
"We will take advantage of the natural light," Mariness Falcon, project manager, Facilities Services, said. "Even a wall to separate the offices from the lounge area will be made of glass."
Amid the controlled chaos known as construction, Falcon talked about the details of the 2,100-square-foot space and efforts to make it both functional and accommodating. Lights will be LED, both because they are efficient and because they don't pulse the way fluorescents do. And there will be a new walkway leading to an east side door for easy access. Students will also be able to enter through Parking and Transportation Services offices. Ceilings will be raised to eight feet and the space will offer a kitchen, complete with a wheelchair accessible microwave oven, as well as group study work areas and quiet areas. Wireless hotspots will ensure everyone has access.
In what were exam rooms, staff for the Office of Veteran and Military Student Affairs will have offices where they can meet privately with students to discuss finances, including how to access military benefits, or challenges students face when transitioning to university life.
The Department of Veterans Affairs recently conducted a compliance visit to the UCCS Office of Veteran and Military Student Affairs, heaping praise.
"The University of Colorado Colorado Springs Office of Veteran and Military Student Affairs is managing the GI Bill program and all of its chapters exceptionally well," Daniel Webster, director, Colorado Office of Veterans Education and Training, wrote. "The program oversight as well as financial auditing that you developed allows your team to ensure the success of your program. Keep up the great job of serving our nation's veterans."
In September 2015, Chancellor Pam Shockley-Zalabak announced plans to move the Office of Veteran and Military Student Affairs from a former home on the eastern edge of campus to expanded and remodeled centrally located facilities.
The McCord-Herbst Center is named in recognition of the late Charles McCord and his wife, Sue, and Clancy Herbst and his wife, Linda. Charles McCord served as president of the University of Colorado Foundation, which manages the university's philanthropy and endowments, from 1981 to 2000. He died in 2013 at age 78.
Clancy Herbst, of Chicago and Aspen, received the University Medal for his two decades of service to the CU Foundation Board of Trustees. He was chairman of CU's Frontier 2000 capital campaign from 1986 to 1993, and served as honorary chairman of the Beyond Boundaries campaign from 1996 to 2003.
The Herbsts committed $400,000 to the project and requested that it bear both the McCord and Herbst family names.
UCCS currently enrolls about 1,700 students associated with the military, according to Phil Morris, director, Office of Veteran and Military Student Affairs. That number is expected to increase.
— Photos and video by Jeffrey M Foster