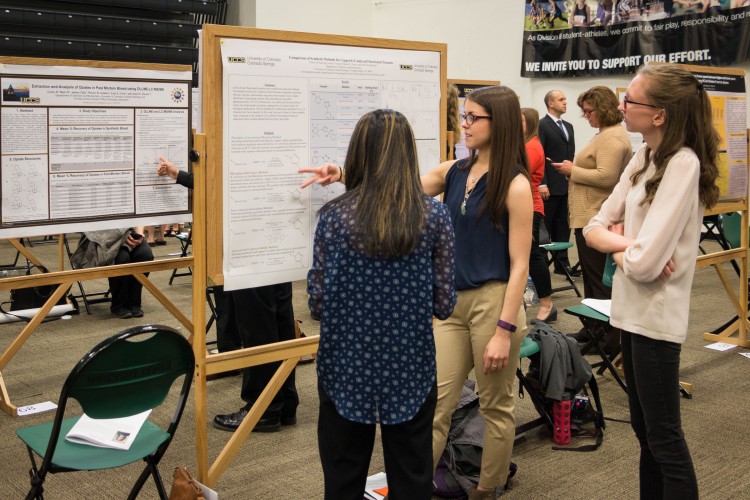 Interested in the absence of mothers in Disney animated films? Or perhaps near IR heptamethine cyanine dyes in cancer therapy? How about humor in pediatric care?
Research, scholarship and creative work on these topics and dozens more was on display April 8, during the 8th Mountain Lion Research Day in Gallogly Events Center.
UCCS students, faculty and staff presented 118 projects, illustrated on large posters organized in rows across the floor in Gallogly. Students were available to discuss and answer questions about their research to anyone who came into Gallogly. Research from virtually every corner of campus was on display. The day also included presentations from nine student speakers, addresses from two faculty members and a luncheon and keynote speaker.
Nicole Hoffman, a junior, and Makenna Smith, a sophomore, presented their "Daily Life of College Student Athletes" project, a requirement of their English class. They studied how student athletes juggle schoolwork, class time and their athletic endeavors. "In addition, we are looking at coaches' perspective about their student-athletes' workloads," according to their entry in the Mountain Lion Research Day abstract book. "Specifically, we are interested in the athletes' perceptions of their free time, homework time and school time."
For both students, the research was more than academic. Both are on the UCCS women's basketball team.
"At the end of the day, we are student-athletes," Smith said. "Not athlete-students."
Holly Anderson, a senior, presented "The Genetic Basis of Reproductive Tract Incompatibilities between Drosophila mojavensis and D. arizonae." Jeremy Bono, associate professor, Biology Department, is listed on the project.
"It's really cool to see what everyone else on campus is working on," Anderson said, standing next to her poster, which focused on fertility and incompatibilities of two species of recently diverged fruit flies.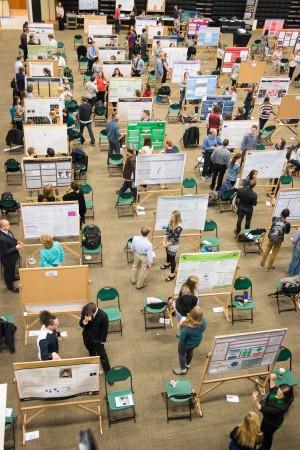 Of the 118 projects at Mountain Lion Research Day, at least 69 involved research in which faculty collaborated with students. The College of Letters, Arts, and Sciences had the most projects (75). The Helen and Arthur E. Johnson Beth-El College of Nursing and Health Sciences and the College of Engineering and Applied Sciences each had 17. Projects also came from the College of Business, the College of Education, the School of Public Affairs, the Chancellor's Leadership Class and the UCCS Center of the University of Colorado BioFrontiers Institute, according to the Office of Research.
The projects included 70 from undergraduate students, 40 from graduate students, seven from faculty and one from a staff member, the office said.
Ali LaForce, executive assistant, Office of Research, estimated about 1 percent of UCCS students conduct research. "For a lot of them, this is one of the few chances they have to talk about what they're working on," she said.
The event was sponsored by the Office of Research, the Graduate School and El Pomar Institute for Innovation and Commercialization.
Mountain Lion Research Day began in 2009 with about 80 participants and two primary goals: to enable UCCS faculty and students to become better acquainted with research being done here in the hopes of encouraging collaboration, and to raise the profile of UCCS research within the broader community.
Learn more, and see the abstract book here:  http://www.uccs.edu/research/mountain-lion-research-day.html
Photos by Joanna Bean