A 3,800-pound fixture of the university found a new campus home during spring break.
After months of planning by the Facilities Services Department, the marble mountain lion was moved from its home since 2004 at the entrance to the University Center to a position of prominence in front of El Pomar Center. The March 25 move was carefully orchestrated with the help of Nunn Construction and under the watchful eye of campus leaders and the mountain lion's benefactor, Chan Bergen.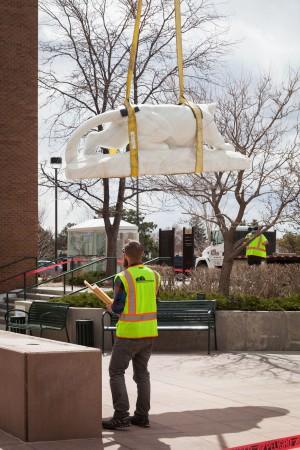 For more than two hours, and using tools that ranged from wood wedges to a diesel-powered crane, Nunn employees carefully cradled and moved the mountain lion to a new 11,000 pound granite pedestal. Before a covey of spectators, a crane operator gently lifted the mountain lion and swung it into place onto a flatbed truck near the University Center. The truck, led by a police escort, made its way up the pedestrian spine before the operator again hoisted the mountain lion and set it atop the new pedestal. By summer, the mountain lion's new home will be dressed with granite paving stones, flower beds and lighting to flatter the masterpiece created from Colorado marble by sculptor Ernest Geolfos, Broomfield.
"Where folks now see sand will be pavers of the same granite as the base but without a polished surface," Carolyn Fox, executive director of planning, design and construction and university architect, Facilities Services, said. "The Grounds Department is designing flower beds for where there is now just mud and conduit is already there for lights."
Plans for a new and improved mountain lion display were created by Charles Cummings, project manager, Facilities Services, in response to an idea hatched by Chancellor Pam Shockley-Zalabak in coordination with Bergen, the benefactor who made the statue possible.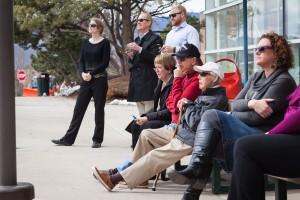 In 2004, Bergen donated the mountain lion to honor his late wife, Melitta. The couple was married for more than 50 years following Melitta (Kiilits) Bergen's escape from war-torn Estonia. Chan Bergen served in the U.S. Army, retiring as a lieutenant colonel in 1963. He later joined the staff of Western Horseman magazine and retired as its director and editor in 1985.
In addition to his donation of the mountain lion statue, Bergen is a supporter of the Kraemer Family Library and Heller Center for Arts and Humanities at UCCS. The Bergens also established a trust to support the School of Journalism and Mass Communication at CU Boulder.
Geolfos created the mountain lion sculpture as part of his focus on North American wildlife. In his quest for perfection, Geolfos has created new tools for marble sculpting and developed unique methods for scraping and polishing. These techniques give his statues a unique look and texture.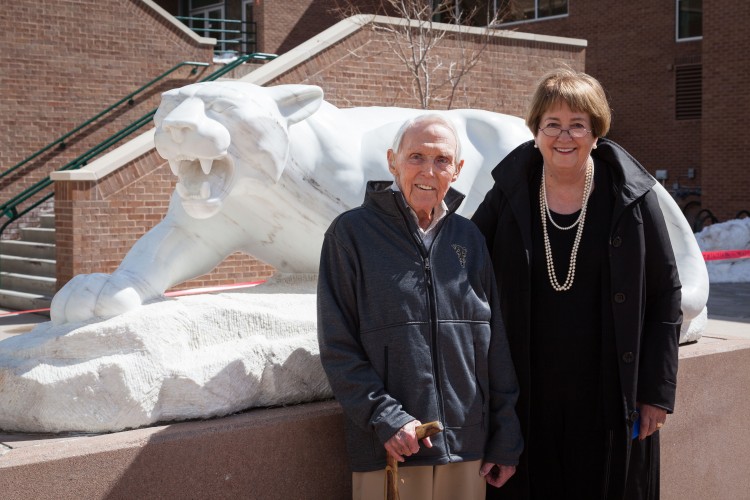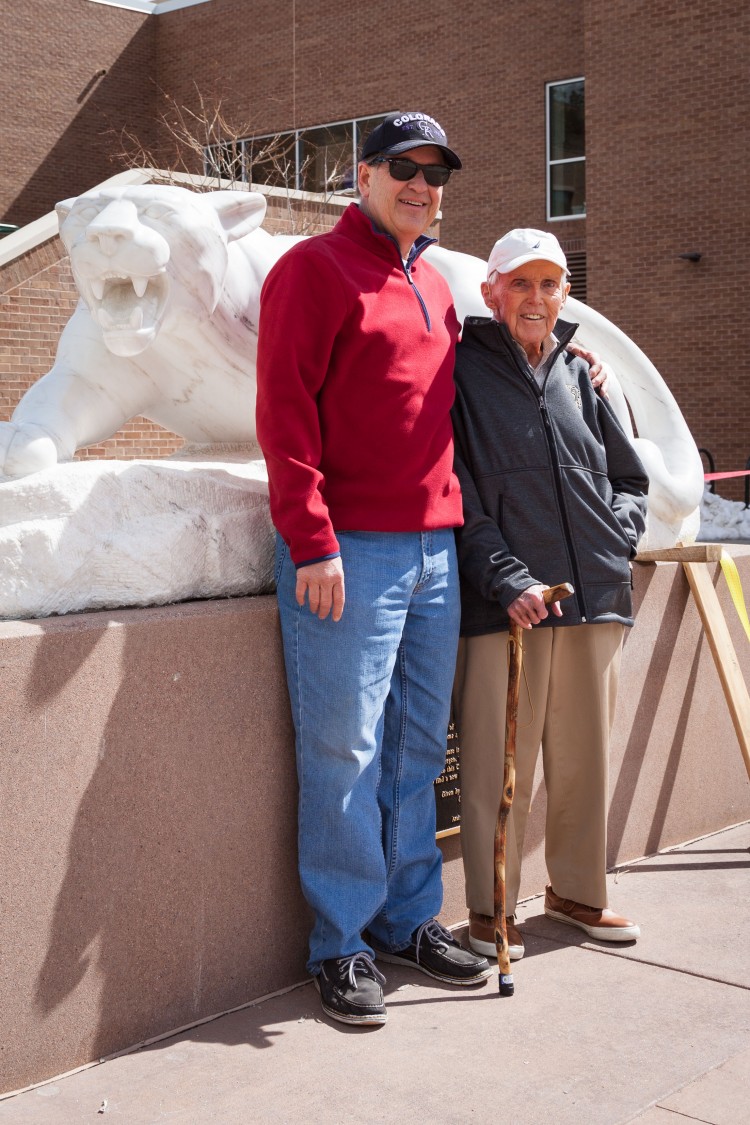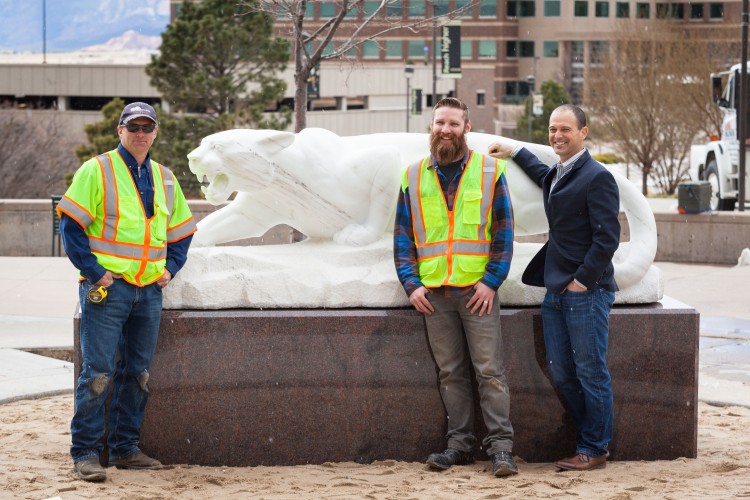 — Footage by Jeffrey M Foster and Joanna Bean, editing by Jeffrey M Foster
— Photos by Jeffrey M Foster