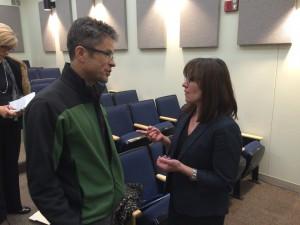 UCCS has made significant strides in its internationalization efforts in recent years, but officials have even greater aspirations: more international students on campus, more students studying abroad, more support for faculty working in global and multicultural areas and a stronger culture of globalization across the campus.
A panel of UCCS faculty and staff highlighted recent successes in the areas of internationalization and globalization at a March 15 Chancellor's Forum.
"A great deal has moved forward in a way that is very exciting," Chancellor Pam Shockley-Zalabak said to kick off the forum. "I am so proud of what has been accomplished, and I think we are headed in the right direction."
Mandy Hansen, who arrived on campus in July as director of Global Engagement, led the forum program.
"Internationalization is not just the efforts of one woman or one office," she said. "It's a community investment."
Hansen noted:
The campus had 315 international students from 49 countries in fall 2015. That compares to 179 students in fall 2012.
More than 80 UCCS students studied abroad in 17 countries in the 2014-15 academic year.
More than 115 UCCS courses carry a global/diversity (inclusiveness) designation for the Compass Curriculum.
Emily Skop, associate professor, Geography and Environmental Studies, said she was surprised to discover the breadth and variety of work being done by faculty members that has a global or international connection. She was named founding director of the UCCS Global Intercultural Research Center in 2014.
Part of the center's mission is to foster a community of scholars involved in global activities. Brown bag sessions featuring faculty work has helped develop that community, she said. (Learn more at http://www.uccs.edu/glint/index.html). The center also provides opportunities for collaborations across campus and the community, and serves as an incubator for newly emerging themes related to global intercultural issues.
The center provided seed grants in 2015 to enable faculty members to pursue research or activities related to global themes. David Havlick, associate professor, Geography and Environmental Studies, traveled to Japan for his project, "Commemoration and Reuse of Militarized Sites in Japan." After six weeks there and visits to numerous sites, including Hiroshima, he realized that one of his geography courses could benefit from his project and incorporated some of his work into his instruction, he said.
Skop said her center's goals include helping the community develop the knowledge, skills and attitudes of global citizenship. The center is considering launching an all-campus read program, she said.
Hansen noted that her office expects to hire a staff member soon who will focus on study abroad. That is expected to boost students' participation, she said.
Related: Spring Forum Schedule Shared
Photos by Tom Hutton