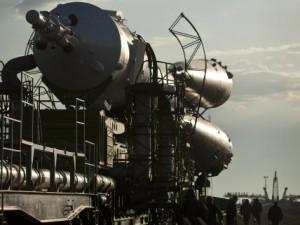 UCCS will host some of the world's leading rocket scientists at the Advanced Space Propulsion Workshop, organized by the National Institute of Science, Space and Security Centers and Andrew Ketsdever, assistant professor, Mechanical and Aerospace Engineering.
Experts on propulsion technology will meet Nov. 15-17 in the Lodge to discuss the future of propelling both robots and humans into space and beyond. The workshop is sponsored by the U.S. Air Force Research Laboratory, NASA Jet Propulsion Laboratory, and NASA Glenn Research Center.
Ketsdever said NASA and the Air Force hold the workshop every two years, generally at a NASA center. NISSSC's involvement brings the ASPW to UCCS for the first time.
"If we intend to explore beyond what we already know, a new means of getting there is needed," Ketsdever said. "For centuries, exploration meant the ability to simply go further with the technology you possessed. Today, however, we find ourselves limited by time to get to the places we really want to go. Traveling faster has become a requirement to go further within the lifetime of a human explorer. Current technology is far too limiting in this respect, and new technology needs to be researched and developed to send us to the stars."
"This workshop will bring together pioneers in the field to discuss current trends in propulsion technology for the next generation of exploration," he continued, adding that partnerships between the USAF, NASA, industry, universities, and foreign collaborators must be employed to solve the challenges of tomorrow's space exploration.
One of the participants and technical co-chair, Ioannis Mikellides from the Jet Propulsion Laboratory in Pasadena, Calif., said:
"Traditionally, the ASPW has attracted space propulsion enthusiasts with diverse technical backgrounds, from NASA, the US Air Force, Department of Energy and Department of Defense National Laboratories, as well as academic and commercial institutions worldwide. The recent passage of the NASA Authorization Act of 2010 has set a clear direction for the agency that, among others, promotes the development of groundbreaking technologies (such as advanced space propulsion), and encourages collaborations that cross agency lines. So, from the NASA perspective, we look forward to preserving the ASPW tradition in 2010 at UCCS as we embark on the new and ambitious plan for space exploration laid out by President Obama."
Ketsdever said time is being arranged for a question and answer session open to the public. Some of the attendees will respond to questions about faster-than-light travel, warp drives, and a few other theoretical ideas.
For more information, contact Ketsdever, [email protected]. or 255-3573.