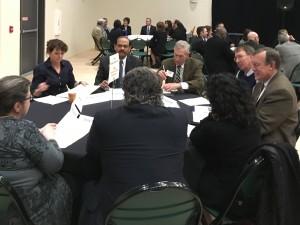 What's the best way to move an ambitious and far-reaching strategic planning process forward?
At UCCS last week, the answer was to move people to big round tables.
At the Feb. 19 CU Board of Regents meeting in Berger Hall, Chancellor Pam Shockley-Zalabak gave regents an update and overview of the university's 2012-2020 Strategic Plan. The campus is in the process of updating and revising the plan, which is expected to be part of a November 2016 Higher Learning Commission accreditation visit.
After her presentation, Shockley-Zalabak encouraged the regents to move from formal seats at the front of the room to one of four round tables nearby. Seated at the tables were UCCS faculty and staff. Each table carried one of these topics: partnerships/health & wellness, academic programs & research, student engagement and diversity & internationalization.
Regents spent 30 minutes each at two of the tables, talking with UCCS faculty and staff members about the topic and providing their input toward the strategic plan.
"We need everyone's ideas and thinking about where to take the campus from 2016 through 2020," Shockley-Zalabak told the regents.
During her presentation, Shockley-Zalabak briefed the regents about progress on the goals laid out in 2012:
Faculty and staff: Plans called for UCCS to add 39 new faculty positions and 30 staff positions. After three years, the campus has added 73 new faculty and 63 new staff members.
Degree programs: Of the new degree programs planned by 2020 (seven undergraduate, four masters and one doctorate), UCCS now has four new undergraduate degrees and two new graduate degrees.
Enrollment: Toward the 2020 enrollment goal of 13,006 students, fall 2014 enrollment was 11,761, up from 10,183 in 2011.
Capital projects: Of 20 capital projects identified in the strategic plan to be completed by 2020, 11 are completed or in construction. Those include: Summit Village expansion (opened August 2013), Lane Center for Academic Health Sciences (opened February 2014), Alpine Parking Garage and Recreation Field (opened August 2014), Academic Offices Building (opened August 2014), Village at Alpine Valley (opened August 2015 and 2016), Recreation Center expansion (ribbon cutting February 2016), Ent Center for the Arts (projected opening January 2018) and Sports Medicine and Performance Center (part of City for Champions projected to open by December 2019).
Shockley-Zalabak said that the conversations at the four round tables would be captured and incorporated into the strategic planning process.
In late January, she invited campus community members to submit their ideas for the strategic plan update. More than 1,100 comments were submitted.
A revised strategic plan will be circulated for comments from the regents and the campus. A completed updated plan will be available for regents' approval at the April 5-6 board meeting on the Denver campus.
To see the UCCS presentation: http://bit.ly/1Q4z9ws.
Related Posts
CU System coverage of the Regents meeting
Photo by Joanna Bean