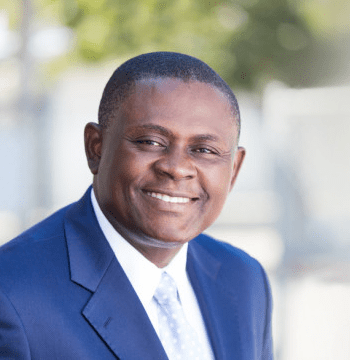 Dr. Bennet Omalu, a renowned physician whose research on chronic brain injuries in football players inspired the 2015 movie "Concussion," will speak April 19 at UCCS.
Omalu is the headliner for this year's annual Significant Speaker series. Tickets are on sale at the University Center information desk, $2 for UCCS students, faculty and staff and military with ID. Tickets are $5 for general admission. Ticket prices will increase closer to the event. Omalu will speak at 7 p.m. at Gallogly Events Center.
Omalu is credited with discovering Chronic Traumatic Encephalopathy in deceased NFL players in 2002. He was the first to diagnose and publish peer-reviewed research about CTE, findings that were initially discredited by the NFL. In "Concussion," Omalu is played by actor Will Smith.
"We're very excited," about Omalu's appearance, said Stephen Cucchiara, assistant director, Office of Student Activities, which sponsors the series with Residence Life and Housing. "I think there's a good buzz about it on campus."
A student group last summer came up with a list of dozens of speakers they would like to see visit campus. Their list included Will Smith, as well as Lisa Ling of CNN and author Jose Antonio Vargas. From there, a planning group narrowed the group of possible speakers and swapped Omalu for Smith, who wasn't available, and polled the student body. Omalu came out on top.
It was a happy coincidence that by that time, interest in "Concussion," as well as Omalu's research, had picked up. Meanwhile, football fever is high after the Denver Broncos Superbowl 50 win, Cucchiara said.
Before his speech, Omalu will take part in a dinner that recognizes UCCS students who live on campus and earned a 3.2 or better grade point average for the fall semester. Those students will receive dinner and a ticket to his speech.
Previous Significant Speakers include Jerry Greenfield, Bill Nye, Neil deGrasse Tyson, Randi Zuckerberg and LeVar Burton.
For more information on the event, call 255-3470. To learn more about Omalu, visit http://www.greatertalent.com/drbennetomalu/