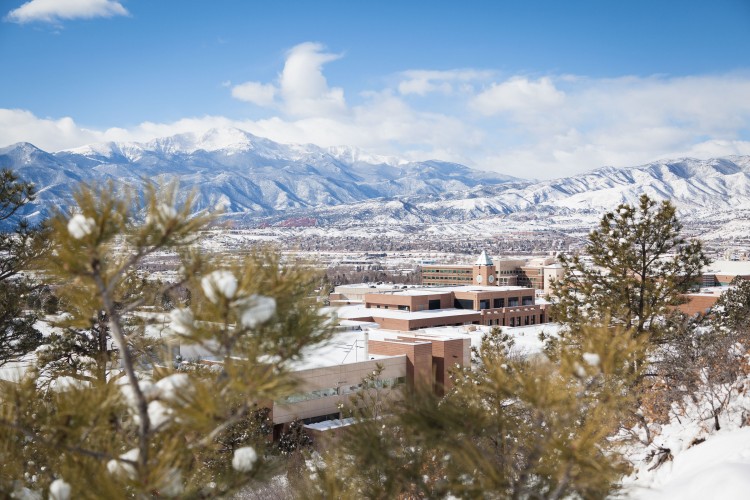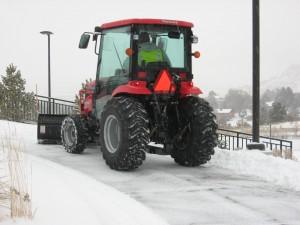 For Rob Dougherty, preparation for this week's storms began long before the first flakes started to fall Sunday.
Last fall, Dougherty, executive director, Physical Plant Department, and representatives of several other campus departments attended a meeting called by Tim Stoecklein, emergency management program director, Department of Public Safety. The topic? Predictions and preparations for snowy and wintry weather.
Those predictions played out, and this week's storms delivered. Working nearly around the clock with a variety of heavy equipment and snow shovels, the Physical Plant cleared sidewalks and roads, helped stranded motorists and even cleared some areas in a children's playground.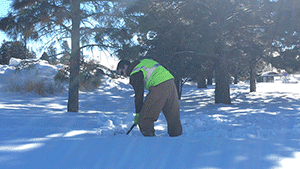 "I'm very proud of the team," Dougherty said. "Whenever you have day after day after day of snow removal – and for some of the team it was hand shoveling – it's very difficult."
Late last week, with temperatures hitting a balmy 50 degrees on campus, Stoecklein was watching a winter storm making landfall on the West Coast.
"This is shaping up to be a high impact event across the region in terms of travel," Stoecklein warned in an email sent to staff in various departments last week.
Dougherty, too, was preparing for snow. His team checked inventories of ice melt and sand and made sure equipment was ready to go and positioned on campus for snow.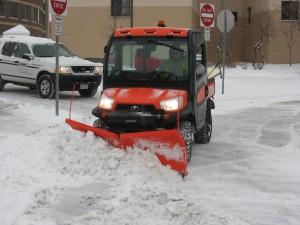 On Sunday, Jan. 31, as the storm rolled in, facilities personnel began what would become a weeklong effort. Sunday evening, UCCS officials decided the university would close Monday Feb. 1 – the first of two snow days. The last of the facilities crew finished their work around 11 p.m. Sunday after making sure roadways would be passable in case of emergency.
The forecast called for heavy snow Monday – and the forecast was right. About 15 inches had fallen by the time the storm was over and campus reopened Wednesday. Most of the 65 employees in the Physical Plant Department are considered "essential," so they reported to campus around 6 a.m. on the days campus was closed, wrapping up around 11 p.m. On Wednesday, with classes back in session, facilities personnel were on campus by 4 a.m. – and again on Friday morning after 2 more inches of snow fell on campus. Clearing snow means ensuring 3 million square feet of roads, parking lots and walkways are safe.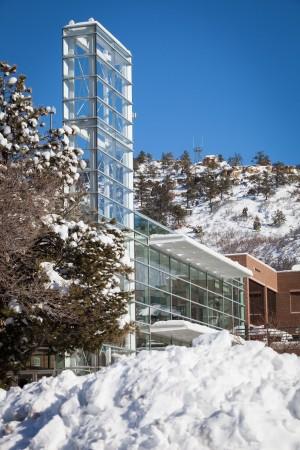 Even when campus is closed for a snow day, activity doesn't stop, Dougherty said. The Peak Vista health clinic in the Lane Center remained open. Some motorists came onto campus and got stuck, so facilities crews helped get them moving again. Some students live on campus in residence halls, along with staff.
"They're going to be out and about," he said. "That's one of our big focuses with snow removal. "
Stoecklein noted the role that facilities personnel played in the storms. "They really carry the bulk of the effort when it comes to snow removal and getting campus back to normal procedures."
Handling any storm or similar event is a team effort, Dougherty and Stoecklein said, involving public safety, dispatch, facilities, housing, dining and others. Dougherty applauded the dining team, which invited his facilities workers to breakfast Tuesday morning.
UCCS has already seen 21 of what Dougherty calls "snow events." That means any day in which snow removal is needed. In the seven years he's worked at UCCS, the most he's seen in any year is 25.
"I'm still expecting another one as big as this one," he said.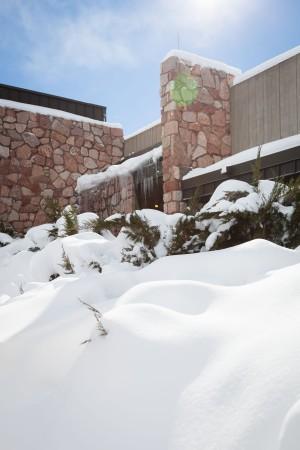 For anyone who wasn't prepared for this week's storms, Stoecklein offered this: "We could see more significant winter weather all the way into April. We're bound to have another storm."
Snow removal facts:
Equipment:
When asked which equipment facilities used during this week's storms, Dougherty said, "All of it."
That included nine plow trucks (two with sanders), four utility service vehicles (including two new ones, with two more to come), one tractor (also new), four snow blowers and 50 or so snow shovels.
Materials
Facilities dropped 20 tons of material on roadways and uses two kinds of ice melt – one for newer concrete so as not to cause damage.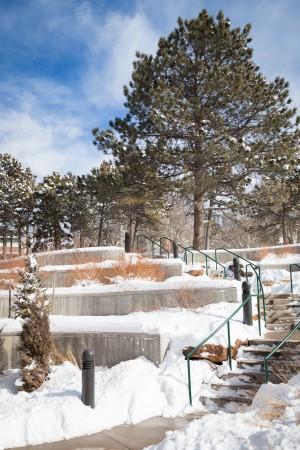 Parking lots
UCCS hired a contractor with a front-end loader to lift snow into piles, especially in parking lots. That helps minimize the number of parking spots lost to snow piles.
Working around abandoned cars in parking lots can pose a challenge for snow removal, Dougherty. He suggested that anyone who needs to leave a car on campus drive it to a parking garage if possible.
Beyond roads and sidewalks
The Physical Plant department responds to all manner of needs for snow removal. The Family Development Center, for example, asked for help removing snow from the sidewalks within the playground area so children could go outside.
The women's softball team has a game soon, so facilities personnel will begin removing snow from the softball field next week so the team can practice.
— Photos and video by Jeffrey M Foster and Rob Dougherty