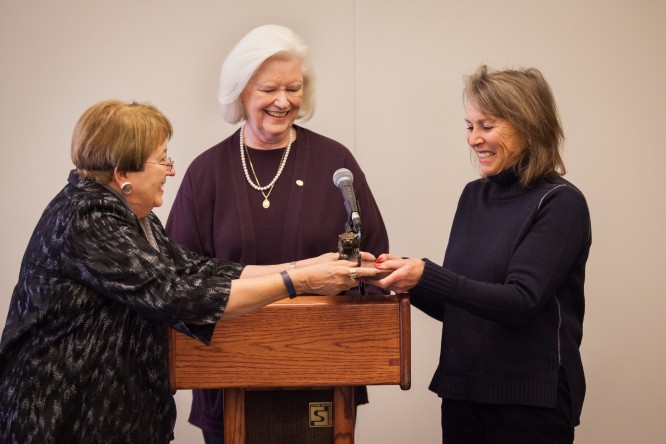 At a Nov. 6 luncheon, a select group including Chancellor Pam Shockley-Zalabak and leadership from the Helen K. and Arthur E. Johnson Foundation celebrated the foundation's $8 million endowed gift that led to the renaming of the college of nursing and health sciences at UCCS.
In remarks, Shockley-Zalabak and Nancy Smith, dean, Helen and Arthur E. Johnson Beth-El College of Nursing and Health Sciences, highlighted the significant and lasting impact the gift will have for the college and the greater Colorado community. A bronze mountain lion and gifts honoring the university's 50th anniversary were accepted by Johnson Foundation Trustee Lynn Campion. Shockley-Zalabak led Johnson Foundation visitors on a campus tour that included a visit to the college's patient simulation lab.
The college was renamed the Helen and Arthur E. Johnson Beth-El College of Nursing and Health Sciences in recognition of the Denver-based foundation's grant. This is the first UCCS college to be named in recognition of a donor.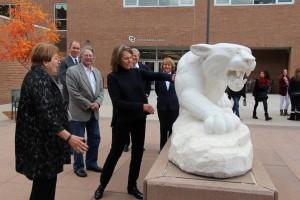 Already this endowment, which annually directs more than $320,000 to the college in perpetuity for use at the dean's discretion, has helped nursing education at UCCS move forward.
"This endowment will give us a lot of flexibility that we don't currently have. It will enable us to develop new programs that we wouldn't otherwise have the resources for," Smith said. "We're looking to start new programs that include faculty positions and curriculum such as the Inter-professional Department in Health Information Technology and Clinical Decision Support."
In general, the endowment will help advance the college's continued pursuit of new directions in health promotion, wellness, leadership and programming in education, practice, research and scholarship for health science professionals.
Since 1979, the Helen K. and Arthur E. Johnson Foundation has made numerous substantial philanthropic commitments to programs and projects at the University of Colorado including $10 million in April to the Helen and Arthur E. Johnson Depression Center at the CU Anschutz Medical Campus. Other Johnson Foundation CU grants include contributions to build new facilities at UCCS as well as 2008 and 2009 grants to boost rural Colorado nurse education. Those programs allow selected community college students to continue past their associate's degrees to earn bachelor's degrees, master's degrees, certification in clinical specialties or a doctorate of nursing practice using distance-learning technologies.
"The Johnson Foundation's first gift to Beth-El was made in 2002. Our continued partnership with the Johnson Foundation has helped the college become what it is today," Smith said.
The Beth-El College of Nursing was established in 1904 by an agency of the Methodist Church. The school was purchased by the City of Colorado Springs in 1943 and became part of the then-city owned Memorial Hospital. In 1983, Beth-El received accreditation as a professional college. In 1997, following a public vote, Beth-El merged with UCCS.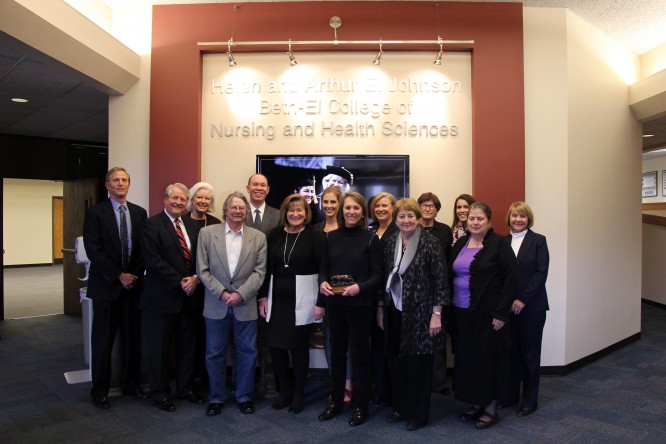 — Caroline Kelly, Marketing and Communications, CU Office of Advancement
— Photos by Jeff Foster, University Communications and Media Relations, and Jaime Garcia, Development Department, UCCS