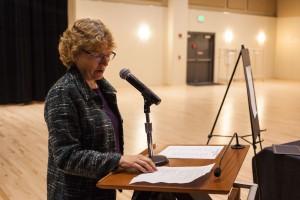 Charles "Chip" Benight, professor, Department of Psychology and more than 30 other faculty and staff were honored Oct. 21 for their efforts to generate sponsored academic research.
At a red carpet reception in Berger Hall, Kelli Klebe, associate vice chancellor for research and faculty development, Academic Affairs, recognized Benight for generating more than $5 million in sponsored research as well as individuals who submitted their first-ever research grant proposal, received an award for the first time, or surpassed $1 million in research funding.
"We appreciate you taking a shot," Klebe said before presenting shot glasses to those who submitted their first proposal. "That is the first step."
Klebe thanked the more than 140 UCCS personnel who support sponsored programs and noted that more than 250 people are involved in generating more than $10 million in annual sponsored program activity.
Benight directs the Trauma, Health and Hazards Center. The center researches and works directly with those who have suffered extreme events including war, natural disaster and violence. The center also works with first responders.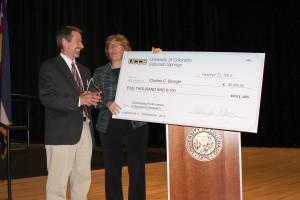 For his efforts, Benight received a check for $5,000 as well as a trophy noting his achievement of surpassing $5 million in grant funding while at UCCS. Only three other UCCS faculty achieved that level of sponsored research funding. They are Terrance Boult, El Pomar Chair of Innovation and Security, College of Engineering, Robert Camley, professor, Department of Physics, and Zbigniew Celinski, professor, Department of Physics.

Others honored Wednesday include
Million Dollar Club
Chinghua Edward Chow, professor, Computer Science Department, College of Engineering and Applied Science
Leilani Feliciano, associate professor, Psychology Department, College of Letters, Arts and Sciences
Anatoliy Glushchenko, professor, Physics Department, College of Letters, Arts and Sciences
Deborah Kenny, associate dean, Helen and Arthur E. Johnson Beth-El College of Nursing and Health Sciences
Rory Adrian Lewis, assistant professor, Computer Science Department, College of Engineering and Applied Science
Janel Owens, assistant professor, Chemistry and Biochemistry Department, College of Letters, Arts and Sciences
Qing Yi, associate professor, Computer Science Department, College of Engineering and Applied Science
First Award Recipients
Grant Clayton, assistant professor, Curriculum and Instruction Department, College of Education
Jay Dawes, assistant professor, Health Sciences Department, Helen and Arthur E. Johnson Beth-El College of Nursing and Health Sciences
Craig Elder, associate professor, Health Sciences Department, Helen and Arthur E. Johnson Beth-El College of Nursing and Health Sciences
Cerian Gibbes, assistant professor, Geography and Environmental Studies Department, College of Letters, Arts and Sciences
Karin Larkin, curator, Anthropology Department, College of Letters, Arts and Sciences
Phillip Morris, director, Office of Veteran and Military Student Affairs
Stephanie Ryon, assistant professor, School of Public Affairs
Kotoro Shoji, postdoctoral fellow, Trauma, Heath, and Hazards Center
Jonathan Ventura, assistant professor, Computer Science Department, College of Engineering and Applied Science
Richard White, computer science doctoral student, College of Engineering and Applied Science
First Proposal Recipients
Melissa Benton, associate professor, Nursing Department, Helen and Arthur E. Johnson Beth-El College of Nursing and Health Sciences
Jill Bradley-Giest, assistant professor, College of Business
Valerie Martin Conley, dean, College of Education
Maja Krakowiak, associate professor, Communication Department, College of Letters, Arts and Sciences
Meghan Lybecker, assistant professor, Biology Department, College of Letters, Arts and Sciences
Chris Nelson, program director, Online Graduate Programs, College of Engineering and Applied Science
James Pearson, professor, Biology Department, College of Letters, Arts and Sciences
Darshika Perera, assistant professor, Electrical and Computer Engineering Department, College of Engineering and Applied Science
Mary Rupp, instructor, Kraemer Family Library
Kimbra Smith, assistant professor, Anthropology Department, College of Letters, Arts and Sciences
Stephany Spaulding, associate professor, Women's and Ethnic Studies Program, College of Letters, Arts and Sciences
Colleen Stiles, instructor, Bachelor of Innovation Program, College of Business
Kevin Tvrdy, assistant professor, Chemistry and Biochemistry Department, College of Letters, Arts and Sciences
Zek Valkyrie, instructor, Sociology Department, College of Letters, Arts and Sciences
Patricia Witkowsky, instructor, Leadership, Research, and Foundations Department, College of Education
— Photos by Ali Laforce and Jeffrey M Foster