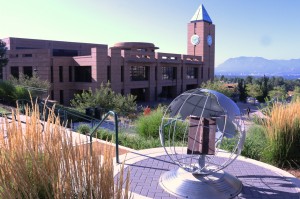 Members of the CU Board of Regents and UCCS leaders will participate in a 9/11 remembrance ceremony at 8:30 a.m. Sept. 11 near Osborne Science & Engineering.
CU Regent Kyle Hybl will lead a moment of silence in commemoration of the events of Sept. 11, 2001, at the site of the UCCS 9/11 Artifact Display located between Osborne Science & Engineering and the Engineering and Applied Sciences Building. The Mountain Ranger Battalion of UCCS Army ROTC will open and close the ceremony by posting and retiring the flags of the United States and Colorado. Ed Anderson, executive director of strategic military, science, space and security initiatives, Office of the Chancellor, will offer brief remarks about the significance of the 9/11 Artifact Display. Anderson is a retired U.S. Army Lt. General.
The ceremony is open to campus and community members. For more information, contact the Office of the Chancellor, 255-3436.
Following the ceremony, the CU Board of Regents will conduct regular meetings at Berger Hall in the University Center.
Dedicated Sept. 12, 2011, the UCCS 9/11 Artifact Display is a memorial that contains a steel plate salvaged from the wreckage of the World Trade Center. It was designed by a team of UCCS engineering students led by Peter Gorder, associate professor, College of Engineering and Applied Science, and in cooperation with United States Air Force engineers.
The memorial is the sister of a display at the Cheyenne Mountain Air Station, which incorporates a beam from the World Trade Center around four pillars representing sentimental perspectives from the attacks on New York, Washington, D.C. and Shanksville, Penn.
The artifacts used in both displays were donated by the National Homeland Defense Foundation.
Related Posts