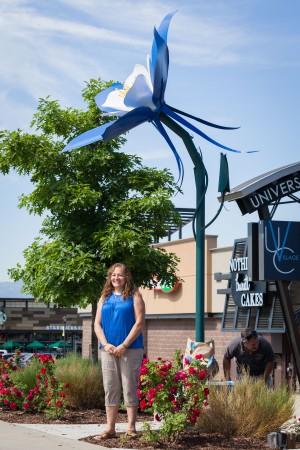 Creating a sculpture that stands out on North Nevada Avenue and can withstand triple-digit winds is no simple art assignment.
But Department of Visual and Performing Arts senior Margie Rick is no ordinary artist. The former pre-school teacher is the mother of two UCCS staff members who understands the state's history and challenges.
Rick responded to a request from Kevin Kratt, developer of the University Village Shopping Center, for sculpture to be displayed at the shopping center. Kratt funds a public sculpture program for UCCS students, providing an opportunity for two student works to be displayed annually. Through the program, University Village Colorado has provided about $35,000 for materials and $100,000 in mounting pedestals, lighting and other expenses, according to Matt Barton, associate professor, Visual and Performing Arts Department.
That's all Rick needed. She turned the idea of a sculpture of a Colorado Blue Columbine by a Colorado native attending a Colorado university into a series of sketches that were eventually selected from other submissions. Moving from sketches to a 16-foot-tall, 8-foot-diameter sculpture was no simple task. She used her connections as a longtime Colorado Springs resident to find fabricators and welders who turned her idea into 1,000 pounds of powder coated structural steel designed to endure one of the area's fabled windstorms.
"It will not rust, it will not chip, it will not flake, it will not fade," Rick said. "All of those parameters were something that I thought extremely important to keep its color and clarity for as long as possible. Kevin (Kratt) says it will be there forever. I told him if it ever needs to be moved call me and I'll put in my front yard."
This is Rick's first public installation but she hopes it won't be her last. She thinks the Colorado State Capitol could use a giant columbine, for example. But such aspirations don't drive her. She looks forward to time with family including daughters Nicole Ridenour, head women's soccer coach, Athletic Department, and Jacqueline Gatlin, assistant director, Student Financial Services, while continuing to work in various art mediums including paint, three-dimensional shapes, found objects and sculpture. The common theme is that of the environment and natural beauty.
"I like that this piece brings color to the area and is something that stands out," Rick said. "In the winter, it will be a beacon. It's got perfect spot with Pikes Peak in background. I couldn't be happier."
— Photos and video by Jeffrey M Foster