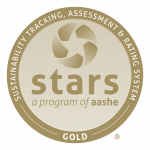 UCCS recently earned a gold rating for its sustainability efforts from the Association for the Advancement of Sustainability in Higher Education.
Linda Kogan, director, Office of Sustainability, and Chancellor Pam Shockley-Zalabak were notified July 13 of the campus ranking in the AASHE Sustainability Tracking, Assessment and Rating System, STARS.
"We appreciate AASHE's recognition of efforts by faculty, staff and students to make UCCS a campus that strives toward greater sustainability," Kogan said. "We are excited that UCCS' adoption of new general education goals, with a sustainability requirement for all students, took the campus from a previous silver level rating to gold."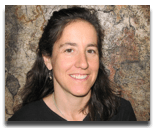 UCCS sustainability efforts range from the installation of three different types of solar panels on campus buildings, constructing new buildings or remodeling existing buildings to meet Leadership in Energy and Environmental Design standards, recycling, reduced water use, an on-campus greenhouse, encouragement of alternative forms of transportation, and academic courses focused on environmental awareness.
UCCS and CU-Boulder both earned gold-level awards. The CU Anschutz Medical Campus earned a silver award. For a complete list of award winners, visit https://stars.aashe.org/institutions/rated/
With more than 650 participants on six continents, AASHE's STARS program is the most widely recognized framework in the world for publicly reporting comprehensive information related to a college or university's sustainability performance. Participants report achievements in operations, academics, engagement and planning.
Unlike other rating or ranking systems, the STARS program is open to all institutions of higher education. The criteria for determining STARS ratings are accessible to all and allow comparisons with other institutions and the sharing of best practices.
For more information about AASHE, visit www.aashe.org
Related posts