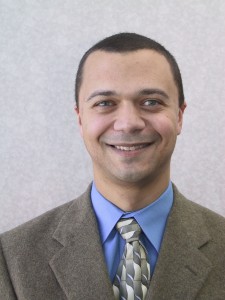 Consumers should be cautious of disease prevention claims made by some ultrasound screening companies, according to an associate dean at the CU School of Medicine.
Dr. Erik Wallace, associate dean, CU School of Medicine Colorado Springs Branch, will deliver "Ultrasound Screening Tests: Buyer Beware" at a UCCS HealthCircle Community Lecture scheduled for 5:30 p.m. July 14 at the Lane Center for Academic Health Sciences, 4863 North Nevada Avenue. The lecture is free of charge and open to the public.
"Direct to consumer screening companies, such as LifeLine Screening and HealthFair, are selling packages of ultrasound screening tests and advertising how these tests can reduce the risk of heart attack or stroke," Wallace said. "In this discussion, we will provide information regarding how the advertising for these screening companies is misleading, which screenings have been proven to save lives and which tests you can receive from your health care provider at little or no cost."
Wallace will also discuss the ethical issues of advertising claims made by some direct-to-consumer screening companies.
In Sept. 2014, Wallace co-authored an article in the Journal of the American Medical Association,, encouraging direct-to-consumer screening companies to fully disclose the risks and benefits of their test offerings. Many companies do not, the article's authors concluded, because disclosing evidence may discourage use and harm the company's profitability. This article was recently awarded the John A. Benson Jr., MD Professionalism Article Prize by the American Board of Internal Medicine Foundation and is available at http://jama.jamanetwork.com/article.aspx?articleid=1896955.
In Dec. 2013, Wallace was named associate dean of the CU School of Medicine's Colorado Springs Branch. He joined the CU School of Medicine in Jan. 2014 and began preparations to create a third and fourth year physician clinical rotations in Colorado Springs. The first cohort of medical students, whose educational space will be located in the Lane Center for Academic Health Sciences on the UCCS campus, are expected to arrive in Apr. 2016.
Prior to joining CU, Wallace was an associate professor of internal medicine at the University of Oklahoma College of Medicine, Tulsa School of Community Medicine. He earned his M.D. from Washington University School of Medicine, St. Louis, and completed his primary care internal medicine residency training at the University of Alabama at Birmingham
This is the fourth in an ongoing series of community health lectures provided by the UCCS HealthCircle to educate the greater Colorado Springs community on common health issues. Previous lectures dealt with improving nutrition, preventing falls, and stress management.
In February 2014, five UCCS clinics joined to become the UCCS HealthCircle. Located in the Lane Center for Academic Health Sciences, the clinics are the UCCS Aging Center, the Peak Nutrition Clinic, the Center for Active Living, a nurse-managed Primary Care Clinic and the Veterans Health and Trauma Clinic. For more information, visit www.uccs.edu/healthcircle