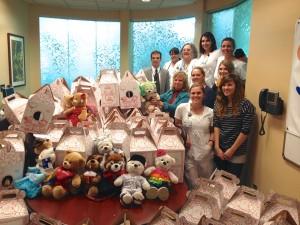 A team of student nurses and Beth-El College of Nursing and Health sciences faculty hope to make Valentine's Day more fun for about 300 children who are patients at Children's Hospital at Memorial Central.
From 9 a.m. to 2 p.m. Feb. 8 at Build-A-Bear in the Chapel Hills Mall, student nurses and interested faculty, staff and students will build bears for donation to patients at Children's Hospital. The bears will be delivered to the hospital Feb. 9 and distributed by hospital staff members to patients.
"This is a great project," Sue Davis, senior instructor, Beth-El College of Nursing and adviser to the Student Nurses Association, said. "It's truly a win-win – the students have a great time building the bears and working together. And the kiddos who are in the hospital have something to brighten their day."
This is the third year for the project, though the goal of 300 bears is new. Last year, 208 bears were delivered. In 2013, 168 bears dressed as cowboys, nurses, soldiers, ballerinas and police officers found their way to sick children.
Faculty, staff and students who are interested in building a bear for donation are encouraged to attend the Feb. 8 event at Chapel Hills Mall. For those unable to attend but who want to support the project, donation tables will be set up near Café 65 from noon to 1:30 p.m. Feb. 3.
For more information, visit http://events.uccs.edu/event/3rd_annual_build-a-bear_fundraiser_benefiting_childrens_hospital_of_colorado_1691?utm_campaign=widget&utm_medium=widget&utm_source=UCCS+Event+Calendar#.VNDyIMtuiUk
— Photo by Phil Denman