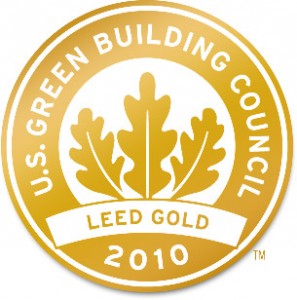 The Gallogly Events Center at UCCS earned Leadership in Energy and Environmental Design Gold certification from the U.S. Green Building Council this week.
LEED is the Green Building Council's rating system for designing and constructing, energy efficient and high-performing green buildings. UCCS officials received official notice Sept. 15 that the event center received the coveted status. Gallogly is now the third UCCS building to be LEED gold certified. The Campus Recreation Center and Science & Engineering previously earned the designation.
"We are proud to be a leader in green building in southern Colorado with three LEED gold-certified buildings completed and one with certification pending on a fourth, Centennial Hall," Brian Burnett, vice chancellor, Administration and Finance, said.
The Gallogly Events Center was formally dedicated Jan. 22. In addition to being home to the NCAA Division II and Rocky Mountain Athletic Conference-member UCCS Mountain Lions, the Gallogly Events Center serves as a multi-purpose venue for all-campus events. The 1,200-seat center features high-tech sound, lighting and high-speed data capability.  The events center was named in honor of Tommy Gallogly who earned degrees from UCCS in 1970 and 1973.
The Gallogly Events Center has numerous energy and environment-saving features including its location nestled into a hill, natural light, a parking place reserved for high-efficiency vehicles and a high-efficiency heating, air conditioning and ventilation system, according to Carolyn Fox, architect, Facilities Services. UCCS submitted items totaling 41 LEED points and received all.  For more about the certification process, visit www.usgbc.org