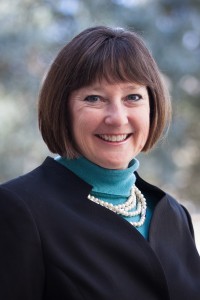 A professor of higher education and student affairs at Ohio University's Gladys W. and David H. Patton College of Education will lead the UCCS College of Education.
Valerie Martin Conley, currently professor and chair of the Department of Counseling and Higher Education at Ohio University, was selected following a national search to be dean of the UCCS College of Education. She will begin her new position July 1, though she is expected to visit the campus throughout the spring to begin the transition.
"Dr. Conley brings more than 27 years of experience as a university administrator, researcher author and professor to our campus," Mary Coussons-Read, executive vice chancellor, Academic Affairs, said. "I am pleased she has agreed to be part of the future of UCCS."
Since 2002, Conley has served Ohio University, a 21,000 student public university based in Athens, Ohio. During her tenure at Ohio, she has served as director of the Center for Higher Education, as coordinator of the higher education and student affairs program, and as both associate and assistant professor.
Prior to joining Ohio University, she led her own education and computer consulting firm, worked as an administrator at Virginia Tech, and in private industry education research consulting firms.
She earned a Ph.D. from Virginia Tech and both bachelor's and master's degrees from the University of Virginia. In addition, she completed the American Association of Colleges for Teacher Education Leadership Academy and the Higher Education Resource Services Bryn Mawr Summer Institute.
"I am delighted to join the UCCS community and to contribute to the mission and vision of the institution at such an exciting time in its history, Conley said. "I look forward to working with faculty, staff, students and alumni of the College of Education to engage the college in service and commitment to the positive changes necessary for our continued success. "
Conley replaces Mary Snyder who retired Jan. 1 after serving as dean since 2011.
— Photo and video by Jeff Foster