UCCS will begin construction of the $16.3 million Recreation Center expansion following an 11 a.m. Sept. 5 groundbreaking ceremony.
About 15 university and student leaders and general contractor representatives are expected to dig a few inches into Lot #434, (formerly Lot 8) on the north side of the current Recreation Center, marking the start of the year long project. Following the ceremony, refreshments will be served in group fitness room on the first floor of the Rec Center.
According to Matt Gaden, associate director of operations, Recreation Center, the 47,605 square foot expansion will more than double amount of fitness space.
"As the campus has grown we have seen corresponding increases in demands on our facilities and our programs and we are reaching a point where the existing facilities are inadequate to meet the demands of the campus community," Gaden said. "The finished expansion will allow us more facility space to accommodate drop in users as well as allow us to expand and develop new programs and opportunities."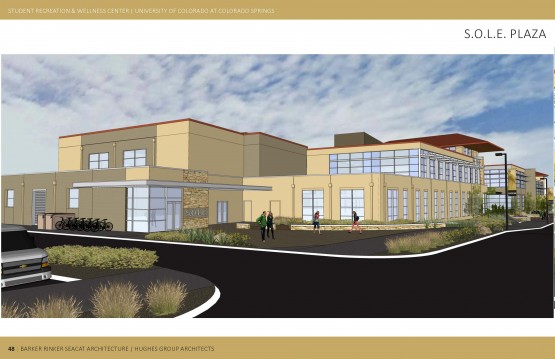 Additional facilities will include added fitness space for weights and cardio, two more basketball courts, two more fitness studios, new locker rooms with an increased number of showers, and bike and skateboard racks. 11,608 square feet of the expansion will be dedicated to a new Student Wellness Center that will house the Student Health Center and Counseling Center.
"I am extremely excited to be embarking on the integration of the Student Health Center, University Counseling Center, Recreation Center, and a component of Food Services because we know that issues students face as obstacles during their college years tend to be health and wellness related," Stephanie Hanenberg, director, Student Health Center, said. "Being able to provide students support for their physical health, mental health, fitness, and nutrition needs in an integrated model allows us to take a holistic approach to help them be healthy, productive individuals."
The project is expected to be completed by mid-fall 2015.
The Rec Center Referendum to pay for the expansion was voted on and approved in spring 2012, establishing an $80 per-semester fee. The Student Wellness Center will be funded through a student approved $35 per-semester fee, effective fall semester 2014.
While construction will take Lot 8 offline, the dedicated hourly Rec Center and visitor parking in the Alpine Parking Garage will actually add an additional 60 parking spots.
To attend, RSVP to Iryse Naro, [email protected].
For more information regarding the Student Recreation and Wellness Center, visit http://www.uccs.edu/recexpansion/index.html.