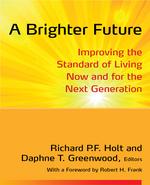 "A Brighter Future: Improving the Standard of Living Now and for the Next Generation," edited by Richard Holt, professor, Department of Economics, Southern Oregon University, and Daphne Greenwood, professor, Department of Economics, UCCS, was recently published by M.E. Sharpe, an Armonk, N.Y. publisher of books and journals in the social sciences and humanities.
The 288-page book explores causes of a faltering standard of living in the United States since the early 1980s and what can be done to restore it. Greenwood will use the text in Econ 3610: Work and Pay.
The text was created following a 2011 conference at UCCS sponsored by the Colorado Center for Policy Studies with the help of the Elizabeth Cushman Public Policy Fund and the Economics Club. The conference brought together well-known U.S. economists to discuss different aspects of how to improve the standard of living and make it sustainable into the future.
For more information about the book, click here