EDIT: The location for Brian Burnett's Farewell Receptionh as moved from the 3rd floor Kraemer Family Library Apse to Berger Hall.
---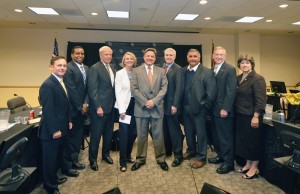 A community and campus farewell reception for Brian Burnett, senior executive vice chancellor, Administration and Finance, is scheduled for 3:30 p.m. to 5:30 p.m. July 23 on the third floor of the Kraemer Family Library.
To attend, please respond to [email protected] by July 16.
Burnett announced June 20 his plan to leave UCCS after 11 years to become the vice president and chief financial officer for the University of Missouri System. He was honored by the CU Board of Regents for his service June 27.
Related article
— Photo courtesy of Cathy Beuten, Office of the President