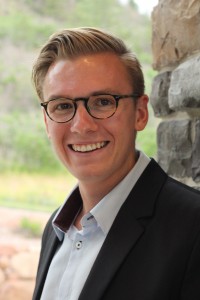 A UCCS lecturer, research intern at the Center for Creative Leadership, and assistant director of a local non-profit will be the interim director of the Chancellor's Leadership Class.
Homer Wesley, vice chancellor, Student Success and Enrollment Management, announced the appointment of Garrett Gatlin as CLC's interim director. Gatlin will lead the student scholarship and leadership development program for the 2014-15 academic year.
"Garrett brings a passion for UCCS and for leadership development to the position," Wesley said. "He will work with many of us in the Student Success Division, with Chancellor Shockley-Zalabak, with CLC board members, and current students to further develop other leadership opportunities for students across campus."
Since January, Gatlin has worked as a research, design and delivery intern for the Center for Creative Leadership, Colorado Springs. He has also worked as the coordinator for communication across the curriculum in the Center for Excellence for Communication and as an academic lecturer. He is an assistant director of operations for Pure Rebellion Ministries, a local non-profit, and previously worked as both a marketing manager for an insurance company and as a restaurant trainer.
Gatlin earned a bachelor's degree in communication from UCCS in 2012 and is currently pursuing a master's degree in communication.
CLC is a scholarship program designed to improve leadership skills, personal effectiveness and to prepare students to make meaningful community contributions. For more information, visit http://www.uccs.edu/clc.
Gatlin replaces Kristi Kremers. Kremers, director of the program since 2012, recently announced plans to return to the University of Minnesota where she hopes to complete her doctoral degree dissertation.