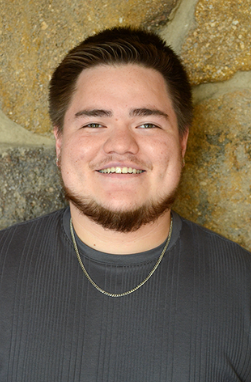 "Meet a Mountain Lion" is a series of stories introducing members of the UCCS community to campus. Meet Angello Soto, an Admissions Counselor at UCCS.
1. Tell us about your background, and what brought you to UCCS.
I was born and raised in Colorado Springs, Colorado and attended St. Mary's High School, so the love for my hometown runs deep. I had initially attended college near the Chicago area, but due to health reasons, returned home. From there I knew I wanted to earn my degree, so I was fortunate enough to discover a wonderful institution in my own backyard.
2. What do you do at UCCS?
I am fortunate enough to work at UCCS in the Office of Admissions as an Admissions Counselor. I am responsible for recruiting and assisting students through the admissions process. What I enjoy about my role is helping students discover the different opportunities UCCS has to offer.
3. What do you love about UCCS?
The best aspect of UCCS that I enjoyed as a student and now as professional staff is the support that I have received throughout my time here. Whenever I needed something, I felt comfortable enough to turn to professors, classmates, and colleagues. Although many colleges promote support, UCCS embodies what it means to be a part of a community that has your back.
4. What are you working on right now?
I am fortunate enough to be a graduate student, pursuing my Master's in Leadership with an emphasis in Student Affairs in Higher Education. I am also planning recruitment efforts for the El Paso County area for this upcoming fall.
5. What energizes you at your job?
The people that I work with energize me because of the support and confidence they instill in me and my abilities. I also love working with students and their families who are excited about starting their college journey at UCCS.
6. What's an accomplishment you're proud of?
I am proud to say that I graduated college debt-free, by working all four years during my undergrad. This was not an easy accomplishment, and I also owe the congratulations to my family, who supported my efforts and encouraged me along the way.
7. What's a goal you have for the future?
A goal that I have for the future is to become the best student affairs professional that I can be, serving students in the community I grew up in and showing them that anything is possible.
8. What do you do with your free time?
I enjoy watching sports (Go Nuggets and Broncos) and spending time with family and friends.
9. What's the best compliment you've ever received?
The best compliment I have received was that I will go above and beyond for others and that I am someone people look up to. I try and remember those words to inspire me to be better than I was yesterday.
Do you know a Mountain Lion that UCCS should meet? We want to hear all about them! Invite them to share their story, and we'll tell it to the UCCS community.