A 24-year veteran of the food service industry will be the first director of university-operated food services at the University of Colorado Colorado Springs.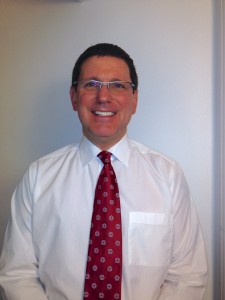 Mark Hayes, currently director of dining and summer conferences at the University of Wisconsin, Stevens Point, was selected following a national search. His appointment was announced Jan. 13 by Susan Szpyrka, vice chancellor, Administration and Finance.
"Mark brings a wealth of experience to UCCS," Szpyrka said. "He led the transition of a campus from vendor-operated to university-operated and is a leader in sustainability and local food movements. I look forward to his arrival and encourage the campus community to both welcome him and embrace his ideas."
Since 2009, Hayes has directed dining and summer conferences at UW-Stevens Point, a campus of 9,400 students. In that role, he led a team of 32 staff, 75 student managers and 375 student employees.
Previously, he served as general manager with Harvard University Dining Services, Cambridge, Mass., and worked as a managing partner and general manager for privately owned restaurants in Pittsburgh, including Lidia's Pittsburgh, owned by James Beard award winning chef Lidia Bastianich. Hayes also opened restaurants in the Netherlands and Singapore.
Hayes earned a bachelor's degree from Slippery Rock University, Slippery Rock, Pa., and a master's degree from Indiana University, Bloomington. He has completed coursework for a doctoral degree in higher education leadership from Edgewood College, Madison, Wisc., and earned certificates from Harvard University and the Federal Emergency Management Administration. He is a certified Foodservice Management Professional.
In 2013, Hayes led UW-Stevens Point to a National Association of College and University Food Services gold medal for residential dining, the first gold medal in the UW System. He developed a local foods and sustainability program that contributed to recognition on the Princeton Review's Green College Honor Roll and the Association for the Advancement of Sustainability in Higher Education -Stars. He also led the food services department to superior scores on a national college food service benchmarking survey.
"I am very excited about the opportunity to lead the university's transition to self-operations and look forward to developing strategic partnerships on and off campus," Hayes said. "We will need the support of the entire community to make UCCS Dining and Food Services a tremendous success."
In October 2013, UCCS announced plans to operate its own food services beginning in May 2014. Previously, campus food services were handled by third-party contractors.
The seven-member search committee for the director of food services position was chaired by Tamara Moore, executive director, Auxiliary Services. Other members were Russ Saunkeah, executive chef and associate director, Food and Dining Services; David Leupp, senior instructor, College of Business; Janel Owens, assistant professor, Department of Chemistry and Biochemistry; Nan Kerr, customer service specialist, University Center;  Jason Adams, student government representative; Sarah Morehead, administrative assistant, Admissions Services Department; and Iryse Naro, executive assistant, Office of the Vice Chancellor for Administration and Finance.
Related articles
Campus to operate food service
Sodexho manager to join UCCS food service