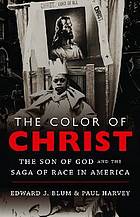 Subject editors of Choice: Current Reviews for Academic Libraries recently announced "The Color of Christ: The Son of God & the Saga of Race in America" as one of the Top 25 Books in its annual Outstanding Academic Titles List.
"The Color of Christ" was written by Paul Harvey, professor, Department of History, and Edward Blum, associate professor, Department of History, San Diego State University. The book explores the nature of Christ worship in the U.S. and addresses how his image has been visually remade to champion causes of white supremacists and civil rights leaders alike, and why the idea of a white Christ has endured.
Choice is a leading source for reviews of academic books, electronic media, and Internet resources of interest to those in higher education. More than 22,000 librarians, faculty, and key decision makers rely on Choice magazine and Choice Reviews Online for collection development and scholarly research.
In a Dec. 16 release, Choice shared the "Top 25 Books: and "Top 10 Internet Resources" lists. A full Outstanding Academic Titles list will appear in the Jan. 2014 issue.