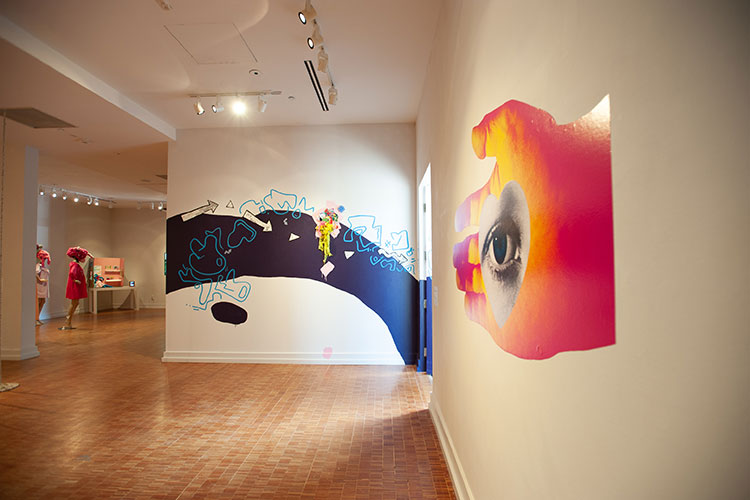 The UCCS Galleries of Contemporary Art (GOCA) will host a free public event on Thursday, July 22 from 7-8 p.m. featuring U OK? curators and artists touring and discussing the exhibition at the downtown Colorado Springs gallery, 121 S. Tejon Street, Suite 100.
The event is open to the public, and no tickets are required. For more information, visit https://gocadigital.org/exhibitions/u-ok
Artists Katy Batsel, Koko Bayer, Jonah Brock, Trey Duvall, Moe Gram and Margaret Kasahara will chat about their art on view in the exhibition with curators Christine Flores and Stephanie Von Fange. The exhibition will be on view through Friday, August 6, 2021.
ABOUT THE U OK? EXHIBITION
U OK? is an exhibition featuring works from artists across the Front Range of Colorado whose art speaks to individual coping and communal perseverance in the wake of physical, spiritual, and mental burnout. The exhibition features a diverse range of media and approaches that "captures the emotional residue that seeped out from our past year together through works that are emotive, absurd, humorous, heartbreaking and hopeful."
ABOUT THE CURATORS
Christine Flores earned a Bachelor of Arts in Visual and Performing Arts in 2020 from the University of Colorado Colorado Springs. While studying in the VAPA program, Flores worked as a Gallery Assistant with the UCCS Galleries of Contemporary Art.
Flores has shown her work in several Colorado Springs galleries including The Modbo, Kreuser Gallery, and The Machine Shop. In 2018, Flores was awarded the Pikes Peak Art Council's Rising Star Award. U OK? is Flores' debut experience as a co-curator.
Stephanie Von Fange is a designer, artist and curator based in Colorado. She currently serves as Exhibition and Events Manager at the University of Colorado Colorado Springs (UCCS) Galleries of Contemporary Art (GOCA), where she has produced numerous exhibitions.
Prior to GOCA, Von Fange was Creative Director & Curator for Dream Catchers, curating exhibitions and events independently and with other local galleries, such as Kreuser Gallery and The Machine Shop. She is a new member on the City's Public Art Commission and has volunteered with many local arts organizations.
Von Fange received an Associate of Applied Science in Multimedia Graphic Design from Pikes Peak Community College and a Bachelor of Arts degree in Visual and Performing Arts from UCCS. Born in Indiana and raised in a family of performers, Stephanie Von Fange feels fortunate to work with artists on a daily basis.