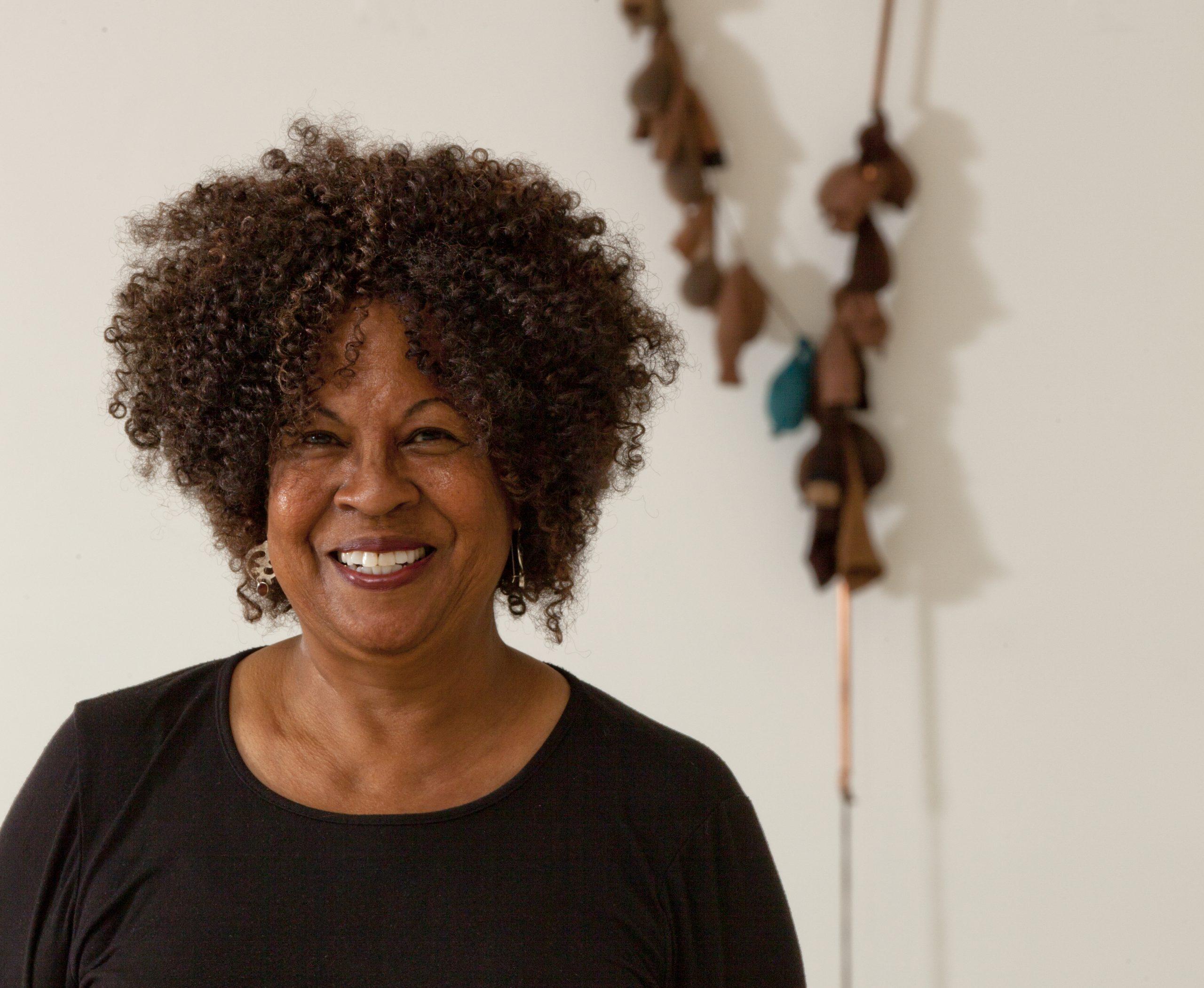 Internationally recognized artist Senga Nengudi will present at the Ent Center for the Arts at UCCS to preview a new activation of her renowned sculpture R.S.V.P. Performance Piece.
The free event is a collaboration between the Denver Art Museum and the Galleries of Contemporary Art and will debut on the lawn of the Ent Center for the Arts on March 23 at 7:30 p.m.
"It is exciting to celebrate international artists like Senga Nengudi at the Ent Center for the Arts with this one-night film screening," said Daisy McGowan, Daisy McGowan, GOCA artistic director and curator. "Senga is arguably the most important contemporary artist in the state of Colorado at present, and her influence on art and art history is significant and remarkable. We are honored to celebrate Senga Nengudi."
Nengudi, a Colorado Springs resident, has a deep history with UCCS, GOCA and the Colorado Springs arts community. Nearly a decade ago, she also taught at UCCS as a faculty member within the Visual and Performing Arts department, and she continues to support students and emerging artists.
Nengudi's art is a combination of sculpture and dance with a profound interest in ceremony and ritual, Senga Nengudi champions experimentation with unconventional materials and forms of expression. R.S.V.P. Performance Piece, which is in the permanent collection of the Pompidou Centre in Paris and on view in the current DAM exhibition Senga Nengudi: Topologies. Senga Nengudi's career emerged in Los Angeles in the mid-1970s and she is largely associated with avant-garde black artists from that period. She developed a style melding the body in movement with the use of common, everyday materials in a series of collaborative performances with her artist peers, including Maren Hassinger, Ulysses Jenkins, Franklin Parker, Houston Conwill, David Hammons and Barbara McCullough. Nengudi's approach to art is inspired by and rooted in ritualistic performances from a wide range of sources including traditional African ceremonies, Japanese Kabuki Theater, events of the 1960s and other forms of modern dance.
Although the event is free, there are limited seating opportunities to accommodate for social distancing. Pre-registration is required. The event will take place weather-permitting outdoors with a video projection spanning the exterior of the Ent Center for the Arts lobby.
---
More about the Artist
Much of the power in Senga Nengudi's art is in its resonance over space and time. Nengudi is known for her abstract sculptures activated through performance, particularly her biomorphic nylon mesh series, "Respondez s'il vous plait" (1975 to the present). The sculptures are made from pantyhose that the artist stretches, twists, and knots, and fills with sand and other found material. Soon after her son was born in 1974, Nengudi began to use secondhand pantyhose as her primary medium. She stretched the nylon garments into various forms across walls, frequently also extending them onto the floor, and then invited a collaborator (most often dancer/artist Maren Hassinger) to "activate" the works, either through dance or other types of interactions and movements. In the words of the artist, "there is a charging that takes place, an activation of mutual energy, in concert with the sculpture."
Nengudi has been featured in many significant exhibitions, including Vive Arte Vive, curated by Christine Macel, at the 57th Venice Biennale; Nengudi's work was also included in the 54th Carnegie International, at the Carnegie Museum of Art, Pittsburgh in 2004-2005. In 2017, the solo exhibition Head Back and High: Senga Nengudi, Performance Objects (1976-2015) opened at the Baltimore Museum of Art, and traveled to Art + Practice, Los Angeles. The group exhibition We Wanted a Revolution: Black Radical Women, 1965–85 opened at the Brooklyn Museum in 2017, and traveled to the Albright Knox, Buffalo; and the Institute of Contemporary Art, Boston. The Museum of Contemporary Art, Chicago, opened the group exhibition West by Midwest, curated by Charlotte Ickes, in the fall of 2018, while in September of 2019 a retrospective of Nengudi's career, Senga Nengudi, will open at Lenbachhaus, Munich.
Nengudi's work is in the permanent collections of many major museums worldwide, including: The Museum of Modern Art, New York; The Whitney Museum of American Art, New York; Studio Museum in Harlem, New York; The Brooklyn Museum, New York; Los Angeles County Museum of Art, The Hammer Museum, Museum of Contemporary Art, Los Angeles; The Carnegie Museum of Art, Pittsburgh; Musée National d'Art Moderne, Centre Georges Pompidou, Paris; Tate Modern, London; and Jerusalem Museum of Art, Jerusalem.